No Google Nexus One for Verizon Subscribers
Since January Google's been advertising the Verizon version of the Nexus One as 'Coming Soon' over at Google.com/phone. James Kendrick from jkOnTheRun noticed that Google's changed the the Nexus One product page and there's no mention of a Verizon ready Nexus One. Instead, Google's encouraging visitors to check out the Droid Incredible if they're on Verizon's network.
Google's trying to mix things up by getting people to buy the Nexus One sight unseen. I'd been toying with the idea of buying a Nexus One since I saw it in person at CES 2010, but haven't pulled the trigger yet.  Instead, I've simply bought T-Mobile SIM cards to use in my old Blackberry Pearl. Had the ocal T-Mobile store stocked Nexus One units I probably would've ended up buying one on impulse.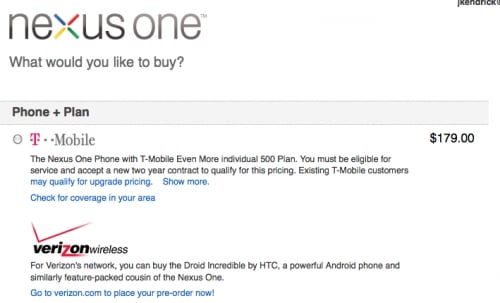 There's a chance the notice on the Nexus One page is temporary, but I wouldn't be surprised if Verizon ditched the Google phone for good. There's already plenty of Android powered phones that Verizon customers can actually touch and try before buying.

As an Amazon Associate I earn from qualifying purchases.