No iPad 5, iPad mini 2 at September 10 Event…Maybe.
After several reports on Bloomberg emerged hinting that Apple would also show off its next generation iPad and iPad mini tablets at a September 10 event that's widely believed to be for the unveiling of the iPhone 5S and iPhone 5C smartphones, Jim Dalrymple is putting the kibosh on that story. The Loop Insight reporter says bluntly, "Nope. No iPads." in a post responding to Bloomberg's story.
Most recently, Bloomberg had hinted that the new smartphones and tablets would be unveiled on the tenth of September in an article that focuses on Apple's new retail store opening in Tokyo, Japan.
"The Cupertino, California-based company plans to introduce new versions of its phone and tablet at a Sept. 10 event," the article says, citing "a person familiar with the matter." Bloomberg went on to say that Apple also has "several more game changers" in the pipeline to battle rivals like Samsung.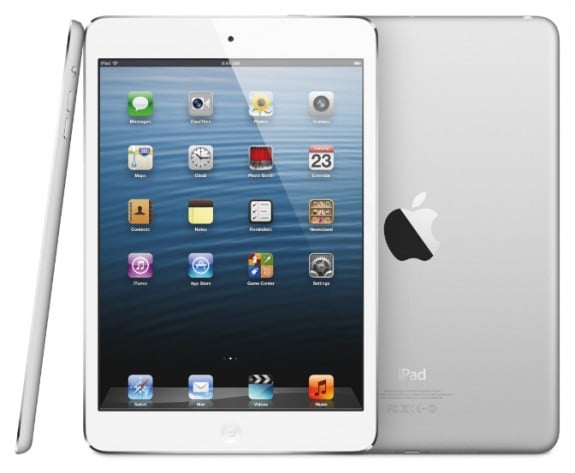 This is the second article from the financial publication in as many weeks mentioning a refresh to Apple's tablet. lineup. However, since the Bloomberg story had gone live, the publication had updated its article to remove references to the tablets for the September 10th event.
Though Apple had not sent out media invitations nor confirmed that it will be hosting an event on that date, a source to All Things D had earlier confirmed that the new iPhone will likely be shown off on that date at a private media event. This year, rather than just one new flagship iPhone model, Apple will be showing off also a second mid-range model in the form of the iPhone 5C. That model will come with a polycarbonate unibody back plate, rather than the premium glass and metal materials on the flagship, along with colorful hues. The iPhone 5C is expected to carry similar specs to today's iPhone 5 and the 5C is expected to possibly replace the iPhone 5 in Apple's new lineup where the company will be offering the iPhone 5S at the high end, followed by the 5C, and then the iPhone 4S at the entry level end.
The new iPad tablets are expected to come this fall, and in prior rumors we heard that Apple would be holding a separate event to introduce a fifth generation full-sized iPad, also referred to as the iPad 5, and also a second-generation iPad mini, referred to as the iPad mini 2. It's unclear what the iPad mini 2 will bring to the table. Though it's widely believed that the slate would, for the first time, accommodate a Retina Display on its 7.9-inch screen, there are conflicting rumors that Apple is ready to move to Retina Display.
Additionally, an Apple iWatch had been rumored to be coming this year in the past, but we're hearing rumors that Apple may not be ready to debut such a product until the second half of 2014. If this is the case, rival Samsung may have up to a year of lead time on the iWatch as that company's Galaxy Gear smartwatch is now confirmed by an executive to be coming early next month to a Berlin event in IFA. The smartwatch category may be one of the "new exciting" products that was referenced. Apple CEO Tim Cook had also hinted that much in earlier conference calls stating that Apple has new and exciting products to show off.

As an Amazon Associate I earn from qualifying purchases.