No NCAA March Madness Live for Some Android Users
We have some Android issues with 
CBS's March Madness Live
 app. Not only can some Android models not download the app from Google Play, the terrible renaming of the Android Market, but video isn't working.
March Madness Live is supposed to work on iOS and Android and give users the chance to watch all 67 NCAA Tournament games on your device for one low price($3.99). Pay the one time fee, log in on your desktop or mobile device and watch games.
That's what is supposed to happen. The desktop support works fine, but when I decided to download the Android app, I couldn't find it when accessing the store from my phone.
I logged onto Google Play on my desktop and found the app, but I can't send the app to my Galaxy Nexus running Android Ice Cream Sandwich. It shows the Galaxy Nexus in the drop down list grayed out which indicates that it's not compatible.
Without trying to trick the system, the app isn't going to show available for download on my Galaxy Nexus as long as the app shows that it's not compatible. That said, we have to take another approach.
What I decided to do was find the app in the APK format so I can sideload the app. Luckily, I was able to find it on 
XDA 
 courtesy of one of my awesome past users on Aximsite, Spunker88. Thanks!
I downloaded the file and installed it to my Galaxy Nexus. As you can see from the screenshots below, it worked. Everything seems to work except for the actual video. Well, the video is the reason I purchased the game and want the app to work.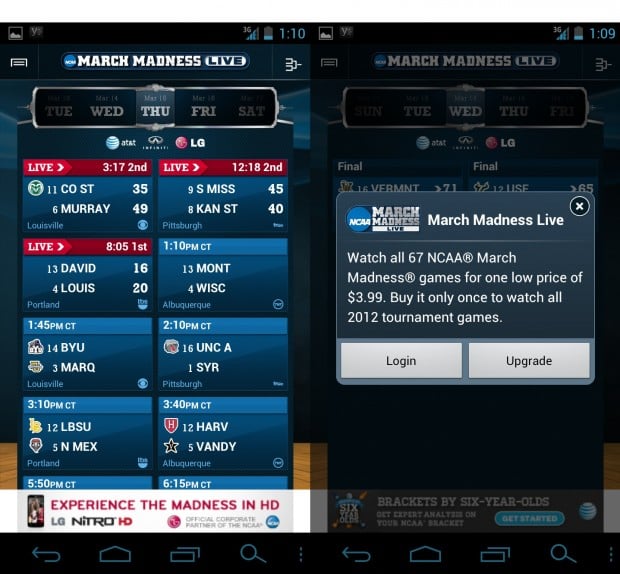 I have read somewhere that they were working on compatibility for ICS, but according to 
PC Mag
, Turner Sports Interactive already said that the app would only support Android 2.2 to 2.3.7.
According to the developers, Turner Sports Interactive, the app will be usable by all Android phones running OS 2.2 to 2.3.7. However, Turner also lists a few phones that support "the best viewing experience" for the app.
If you check out the 
reviews 
of this app on Google Play, you'll see this isn't an isolated case. I plan to request my money back and I urge each and every one of you that have issues watching on your Android device to do the same.
Sure, $3.99 is not much money, but offering a non-working app isn't cool. I was not made aware of this when I purchased the license and if I recall the steps, I was offered to download the iOS or Android app after I made my purchase of the license.
If they can get this worked out today or tomorrow, I'll update this post to share how to get going with ICS phones like the Galaxy Nexus.

This article may contain affiliate links. Click here for more details.