Nokia Exec Hints at Tablets
Being the lone smartphone-maker without a tablet release, Nokia is under pressure to release a tablet. At a press event yesterday to unveil the Nokia Lumia 925 flagship Windows Phone 8 smartphone, Nokia went on record to say that it is still very much interested in crafting a tablet, but offered very little details.
Executive vice president of smart devices Jo Harlow says, "We're very interested in tablets and that's an area we're looking at," but when CNET pressed for more information, Harlow declined to go into specifics.
"I don't have any product news I can share," she says.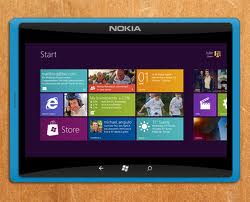 Harlow's comments fall in line with what we've been hearing from Nokia recently. The company had started out shy initially, merely stating that it was just watching to tablet market closely before it would enter, to more recent postulations from CEO Stephen Elop, who was discussing the merits of either going with Microsoft or partnering with Google for an Android slate. Elop discussed the pros and cons of going with each option.
Likely, though, Nokia may deliver a Windows RT or Windows 8 tablet. This would help the company further build out is ecosystem with Windows Phone 8 and it would allow a better tie-in with the phone and a tablet. Given that we're hearing that Windows 8.1 may more underlying kernels and source codes with Windows Phone, a Windows tablet would make sense as it would allow developers to easily port apps from Windows to Windows Phone or the other way around. And given that Nokia has been courting developers for Windows Phone, it would be a great long-term strategy victory for Nokia.
We've also heard recently that Nokia is exploring different designs and form factors for its tablets. One design, we've heard, is similar to Microsoft's Surface tablet with the Surface keyboard cover. However, it's believed that Nokia will differentiate from Microsoft by adding a slim battery to the Surface cover to extend battery life when the cover is used.
For now, it looks like a Nokia tablet is in the works and will be coming. It's just a matter of when.
Nokia rival HTC, also a Windows Phone partner, is also rumored to be re-entering the tablet race with its own Windows RT tablet.

As an Amazon Associate I earn from qualifying purchases.