Nokia Lumia 920 and 820 Headed to AT&T
As expected, AT&T will carry Nokia's new Windows Phone 8 devices when they launch later this year.
AT&T announced the Nokia Lumia 920 and Lumia 820 today in a press release. Unfortunately the press release doesn't mention the price or exact release date for either smartphone. There is some big news with the announcement, however. When the Nokia Lumia 920 does release on AT&T it will come in cyan just like the Lumia 900.
Both phones will use AT&T 4G LTE network, and will come to store shelves sometime in November. Based on previous rumors the phone will likely launch in early November on the same day as every other Windows Phone 8 device. We will likely hear the exact release date on October 29 when Microsoft will likely take the wraps off everything in Windows Phone 8.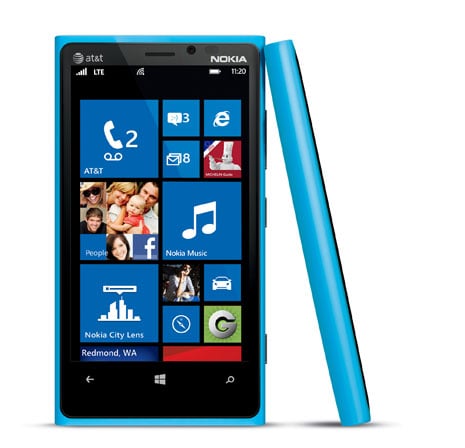 The Nokia Lumia 920 is the high-end phone of the pair. It features a 4.5-inch PureMotion HD+ ClearBlack display which Nokia claims has fastest refresh time of any smartphone.Nokia also claims the screen is easy to read in bright light and will respond to almost any touch including gloves and fingernails.
The Lumia 920 also features a PureView camera. Unlike 808 PureView, the Lumia 920's camera focuses on great low-light performance and image stabilization instead of oversampling.
Nokia's Lumia 920 is exclusive to AT&T, which means we won't see it on Verizon of any other U.S. carrier. The Lumia 820, however, isn't exclusive and can go to other carriers.
The Lumia 820 is Nokia's mid-range Windows Phone 8 device. It uses a 4.3-inch screen with a 480×800 resolution. The big draw of the 820 is its interchangeable back plate. Users can change the color of their phone or add features like wireless charging by buying new backs for the 820.
https://www.youtube.com/watch?feature=player_embedded&v=8Q8tlSDpVDI
Both phones use dual-core Snapdragon S4 processors, just like other recently announce Windows Phone 8 devices.
Read: Lumia 920 Accessories
The Lumia 920 will come to AT&T in cyan, red, black, white, and yellow. The Nokia Lumia 820 will only come in black on AT&T.