Nook Simple Touch Hack Brings Multi-Touch to Barnes & Noble's E-Ink Reader
While Barnes & Noble had conceived its Nook Simple Touch as a simple greyscale E-Ink electronic book reader, that's not stopping developers and hackers from envisioning additional capabilities for the device. As the device runs a customized version of the Android operating system at its core, and like its color LCD counterparts in the forms of the Nook Tablet and Nook Color, the Nook Simple Touch has a proprietary UI designed for e-reading.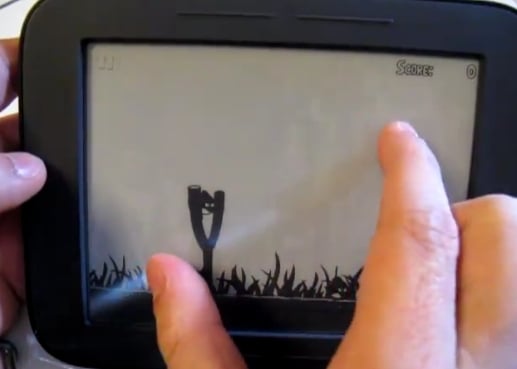 In the past, the Nook Simple Touch had been rooted to allow users to load apps and run custom ROMs on the device's E-Ink screen, and now, developers over at XDA-Developers have devised a way to enable multi-touch gestures on the e-reader. Though users can run games on the device through rooting the Nook Simple Touch and enabling multi-touch gestures, the slower refresh rate of E-Ink compared to LCD screens make the device a less than optimal experience as a tablet replacement for those who intend on using it as something beyond reading text.
According to Liliputing, the modification does require loading ClockWordMod and users who are less familiar with Android rooting and custom ROMs should head over to the XDA thread to read more.
On one hand, it seems that with the power of the Android OS underneath, not many things are safe from the hacking prowess of developers these days, but on the other hand, perhaps this will open the doors to unofficial apps and tools created with some of the limitations of the E-Ink display in mind for the Nook Simple Touch.

As an Amazon Associate I earn from qualifying purchases.