Nook Tablet (8GB) Mini-Review: Performance
Barnes & Noble recently introduced a new version of the Nook Tablet for $199 that differs in minor ways from the $249 Nook Tablet (16GB) that came out last holiday season. The less expensive Nook has half as much internal storage (8GB) and half as much RAM (512MB), but is otherwise identical to the original.
Given this, the only way users might notice the difference between the two is by looking at how they perform. RAM mostly affects multitasking in a device like this, but can also have an impact on overall performance.
To determine how much the RAM affected the experience, I compared the 16GB and 8GB Nook Tablets side by side, looking at how each handled everything from moving around the interface and page turns to playing videos and games.
In most instances I couldn't tell the difference between them.
(Read: Nook Tablet (16GB) Review and Video – Editors' Choice)
The 8GB Nook Tablet displayed the same snappiness when opening apps, returning to the Home screen, and turning pages that I noted when I reviewed the original. It's certainly faster than the Nook Color, which has a single-core processor.
Video streamed smoothly in the Netflix, Hulu Plus and Showtime apps and looked the same on both versions of the Tablet.
As I mentioned, RAM makes a difference when multitasking, but this is less of an issue on the Nook tablet than on other Android devices. Due to the way the n button works in certain games – it acts as a Back button instead of a Home button – most of the time you back out of and close down more intense apps rather than just putting them in the background, anyway.
Read: Nook Tablet vs. Kindle Fire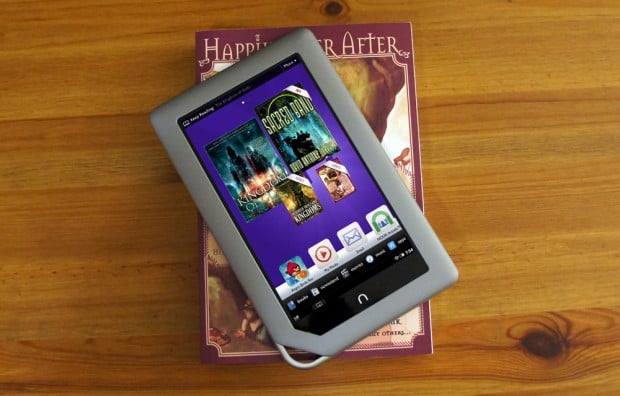 I pushed both Tablets harder than I would normally by opening 15 apps at once, then playing Angry Birds, then watching a video in Netflix. The 8GB Nook Tablet felt a little sluggish during gameplay and took a little more than a second longer to load a video than the 16GB version, but otherwise performed on par.
So why buy the 16GB version at all? Some customers prefer to have more space available for their own files, music, etc., thus going with the model with more internal storage makes sense. Both models have a microSD card slot, though, which accepts cards up to 32GB.
Take note that the 16GB version initially comes with only 1GB of space available to the owner, but you can go to any Barnes & Noble location to expand this.
Read: Get More Space On Your 16GB Nook Tablet
Nook owners who have and use a lot of apps or have apps that use more resources will appreciate having more RAM, especially if you don't turn the Tablet all the way off very often.
Overall, either version of the Nook Tablet is a good choice. Read our full review for more details on the design, display and reading experience.

As an Amazon Associate I earn from qualifying purchases.