After a huge public announcement alongside Apple for the launch of the iPhone 4S as the voice engine to power the Siri virtual assistant software, Nuance is looking to grow its natural UI portfolio with an acquisition of Swype.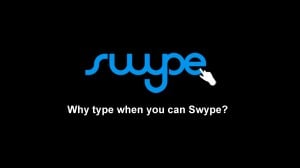 Swype is a software keyboard that's pre-loaded on a number of Android smartphones as an alternative to standard on-screen QWERTY keyboard. Swype has the look a traditional keyboard, but offers users a different paradigm for text input. Rather than typing by pecking at the screen with a finger or two, users can just 'swipe' their fingers across different letters to connect together to form a word. Coupled with an intelligent algorithm and auto-correct, Swype has been a popular keyboard option.
Nuance currently owns the T9 text input system that predicts what you type using a 9-digit key pad. T9 is a competitor to Swype. Now, with Swype and T9 under its belt, Nuance will hopefully expand the reach of its text input technologies into more mobile handsets.
According to Uncrunched, the deal is said to be valued at over $100 million.

As an Amazon Associate I earn from qualifying purchases.