NVIDIA Announces Tegra 4 For Smartphones and Tablets
The new NVIDIA Tegra 4 processor for smartphones and tablets delivers faster browsing, better graphic performance and, finally, support for 4G LTE.
Like the Tegra 3, the new NVIDIA Tegra 4 processor uses four cores plus one low-power processor, but the four cores are now A15 cores instead of the A9 cores found in the Tegra 3, making them faster. The new Tegra 4 also uses 72 graphics cores on the chip for console level graphics and faster processes overall.
To show off the speed of the new Tegra 4 NVIDIA showed a demo of a prototype chip running Chrome next to a Nexus 10. The two chips each loaded a series of 25 commonly used websites. The Tegra 4 finished the process in just 27 seconds, compared to the 50 seconds it took the Nexus 10 to complete the task.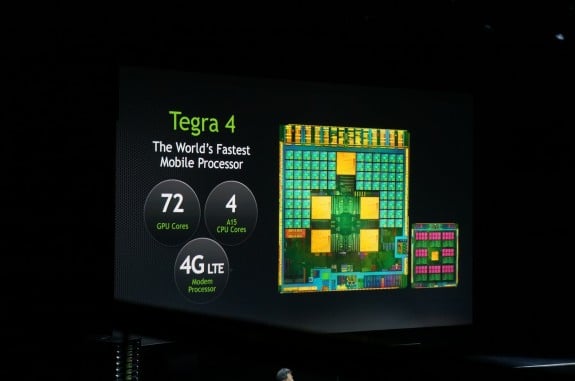 The Tegra 4 is also the first NVIDIA processor for mobile device to support 4G LTE. The 4G LTE modem in the Tegra 4 is much smaller than the average 4G LTE modem. That means hardware makers have more room for components, and because it's a software modem the chip can more easily adapt to different situations than traditional 4G LTE modems.
NVIDIA also optimized the Tegra 4 with its plethora of cores for High Dynamic Range photos and video. Whereas most smartphones take about two seconds to take HDR photos, the Tegra 4 can take HDR photos in just 0.2 seconds. That's because the chip lets the camera take two images simultaneously instead of one after another. That means not only faster photos, but also photos with fewer errors.
The company even showed off a demo of a prototype device that can take HDR video in real time next to standard video.
NVIDIA didn't announce when the Tegra 4 will come to new devices. Manufacturers will likely introduce smartphones and tablets with the Tegra 4 processor sometime in the near future.
The Tegra 4 will also power NVIDIA's new Project Shield, a portable Android console built into a controller with a 5-inch 720p HD display.

As an Amazon Associate I earn from qualifying purchases.