NVIDIA Brings Desktop Power to Mobile with 192-Core Super Chip
To kick off CES 2014 NVIDIA took the stage to announce what's next for mobile. According to the graphics and silicon company the next step in mobile graphics and computing is "bridging the gap" between desktop power and supercomputing with the mobile revolution.
Last year they announced a new quad-core Tegra 4 mobile processor, as well as a 4G LTE equipped Tegra 4i, but this year they had something else in mind. Instead of a 6 or 8-core processor, or even 12, NVIDIA CEO Jen-Hsun walked on stage and revealed the new NVIDIA Tegra K1 192-core processor for mobile. Yes, according to them it's a 192-core processor that is nearly as powerful as an Xbox One, and will fit in the palm of our hands.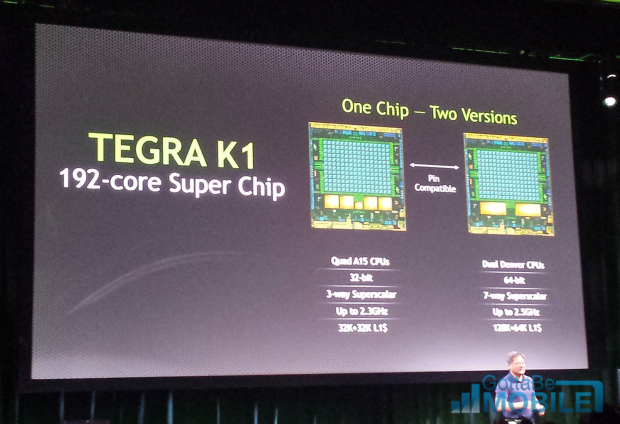 Claiming the new Tegra K1 Super Chip will truly bridge the gap between desktops and mobile, the power of its Kepler Architecture from PC's and Laptops has been integrated into the mobile department, hence the K in the name. The big thing here is that Kepler runs super computers, desktops, notebooks, and later this year will power handheld devices, most which will run Android.
DirectX 11 is the king of graphics on desktops, and brings with it the latest and greatest shader features, real-time lighting, a higher dynamic range to see shadows and brights at the same time, like the human eye, global illumination (real light source, not just a lit room in a video game) and much much more. DirectX 11 makes games and visual computing come to life like never before, as we've seen on PC games, and now the Xbox One and PS4, and that same quality is coming to mobile.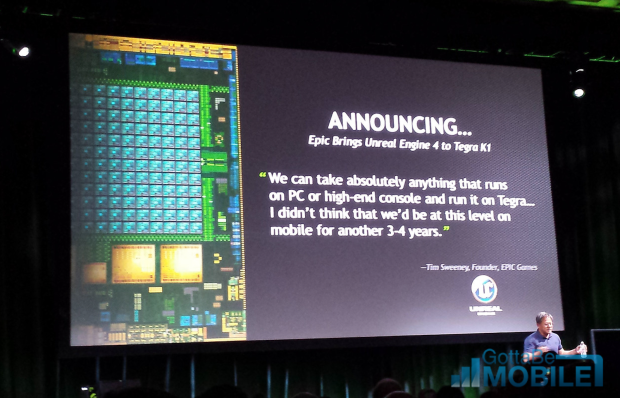 While the company is calling this a 192-core processor, it's really just a 4 Plus 1 quad-core chip like we've seen in the past, yet they're counting all those GPU cores as well. Considering NVIDIA's latest technology can tap into all the cores to processes computational data, not just the CPUs. The new Tegra K1 will come in a quad-core (but 192-cores) Cortex A15 running upwards of 2.3 GHz, as well as a 64-bit dual-core Denver option running at 2.5 GHz. The second one hopes to compete with Apple's 64-bit chip, as well as Samsung's upcoming Exynos.
Showing the new Tegra K1 on stage we saw a handful of demos and graphics power behind the new Unreal Engine 4, which will power the latest and greatest console games throughout 2014 and beyond, which will now be supported on mobile devices. The most important aspect of the K1 is it only consumes 5W of power, compared to over 100W on last gen consoles.
While demos and numbers are great and all, many of you are probably wondering when we can expect to actually get one in our hands, or more importantly, our smartphones and tablets. According to NVIDIA this is the next stage in mobile computing, and hopefully we'll see devices from multiple carriers within the first half of 2014. Including support for full 4G LTE.
The 64-bit dual-core Denver model is expected to arrive sometime in the second half of 2014, so likely in some tablets or  phones later this year.