Nvidia Officially Launches TegraZone.com – Game News, Professional Reviews, Community, and More
The iPad usually gets credit for being the best platform for tablet gaming, largely due to the robust game catalog. However, every Honeycomb tablet on the market runs on a Tegra 2 processor, and you can't deny that Nvidia knows gaming and gamers better than most companies. The Tegra Zone app for Android just received an updated that coincides with the official launch of TegraZone.com. The web version includes some extras meant to pluck the heartstrings of mobile gamers and includes features that I wish the Android Market would incorporate. Are gamers ready to get in the Zone?
On TegraZone.com users can check out games made specifically for Tegra 2 devices (including phones), learn more about said devices, read the latest news about games, and join in community discussions.
The most useful aspect of the site is on individual game pages. Here you can read users reviews and "Official" reviews from websites that cover Android apps. This is pretty valuable, as user reviews are often too short to be really useful.
In addition to screenshots, the gallery section also includes gameplay videos which are, again, much more useful than just images. There's a link at the top of the page to the Android Market, where users can then purchase the app and send it to their device right from the web. And if sharing the games you like is your thing, each product page includes a Tweet, +1, and Like button.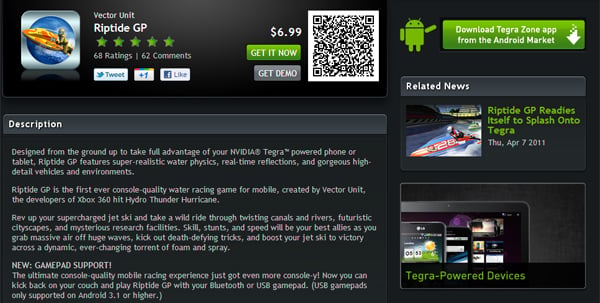 Several games now also include a "Get Demo" button, both on the website and via the app, so Android owners can try a game before committing to it. Good idea, since games often cost more than the $1 – $3 most often seen in the Android Market.
To celebrate the launch, Nvidia is giving away 5 Acer Iconia Tab A500 tablets. Good way to get people over to the site, at the very least.
With the demo feature in place, it's time for me to go try some games. For educational purposes only, of course.