NVIDIA Shield Now Available For Pre-order For $350, Ships June 4
Earlier this week NVIDIA announced that pre-orders for the NVIDIA Shield would start on May 20, but the company instead decided to start taking pre-orders for the Android portable console today.
The NVIDIA Shield is now available for pre-order for $349.99 from NVIDIA, GameStop, NewEgg and Canada Computer. NVIDIA's store doesn't commit to a shipping date, but GameStop and NewEgg both list the NVIDIA Shield release date as June 4. NVIDIA only says the device will ship by the end of June.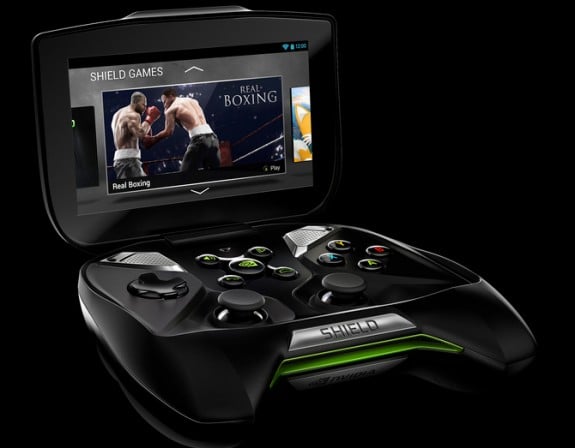 Those who pre-order the NVIDIA Shield will receive two free Android games for their new device: Sonic 4 Episode II THD and Expendable: Rearmed. The two games should show off the power of the new Tegra 4 processor the console uses. Both games are available for other Android devices, but should look better with exclusive graphics effects on Tegra devices.
NVIDIA also offers a number of accessories for the Shield console. The company offers a carrying case for $39.99 that has a small pouch for a USB cable and has a hole on the back so users can charge their Shield while it's in the case. NVIDIA also offers custom lids in carbon fiber and glossy black for $19.99 a piece.
NVIDIA Shield features a 5-inch 720p "retinal" display, though NVIDIA designed the device so gamers can play Android games with the built-in gamepad instead of the touchscreen. The device runs stock Android Jelly Bean and can access the Google Play Store as well as TegraZone, which offers games designed for Tegra-powered devices.
The Android portable console also lets gamers stream games from their PC to the device, assuming they have a supported video card. The feature is only available in beta form at release, however. It will only support a select number of games on Steam and has a list of recommended routers. Sometime after release a patch will come out to enable more games and routers, but there's no timetable given for the patch.

As an Amazon Associate I earn from qualifying purchases.