NVIDIA Shield Coming In June For $350, Pre-Orders Start May 20
Months after its unveil, NVIDIA Shield finally drops the "project" from its name and gets a price tag of $349.99.
NVIDIA Shield will start shipping in June with pre-orders starting May 20. Those who signed up to get more information about NVIDIA Shield, however, can pre-order the Android portable console today through a link sent in an email. That pre-order page says the device will ship by July and will come with two free games: Expendable: Rearmed and Sonic 4 Episode II THD.
Along with the release date NVIDIA also announced final specs for Shield. The device uses the a quad-core 1.9GHz Tegra 4 processor and has a 5-inch 720p "retinal" display. It runs an unspecified version of stock Android Jelly Bean with no skin laid over it.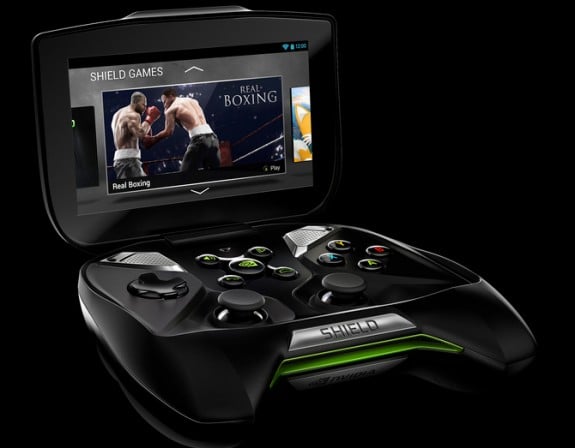 Inside the NVIDIA Shield has 2GB of RAM and 16GB of storage space. The storage doesn't leave much room for graphically intense games, but the device does has a microSD card slot for storing other media so it doesn't clutter the internal storage.
NVIDIA Shield also boasts enhanced speakers so games sound better and a mini-HDMI port so gamers can play their games on an HDTV.
One of the big draws of NVIDIA Shield is its ability to stream PC games over a Wi-Fi network, providing the user has a support graphics card. Unfortunately, the feature will launch as a Beta feature that only supports select Steam games and a select list of recommended routers. Sometime after the Shield comes out a patch will come out that expands the feature to other games.
At $349.99 NVIDIA Shield is more expensive than dedicated portable consoles from Sony and Nintendo. With Android and PC game streaming it has a larger library of games available, but that doesn't mean the games are as good.
When Sony releases the PlayStation 4 later this year it will stream games to the PlayStation Vita over Wi-Fi like the Shield. The decision between the two devices may come down to whether users play more games on the PC or consoles.

As an Amazon Associate I earn from qualifying purchases.