NVIDIA Shield Shipping July 31 For $299
After an initial delay, the NVIDIA Shield will now ship on July 31 for $299.99.
NVIDIA announced the new shipping date for the Shield Android portable console today, claiming the device is now in full production. NVIDIA Shield was originally scheduled to ship last month, but an issue with the device caused a delay shortly before its intended shipping date.
The NVIDIA Shield is a handheld Android device designed to play hardcore Android games and stream games from a PC. The device uses the latest Tegra 4 processor and has a built-in controller to give gamers better control over their games. The device lets gamers play their Android games on the built-in 5-inch 720p display or on an HDTV via an HDMI cable.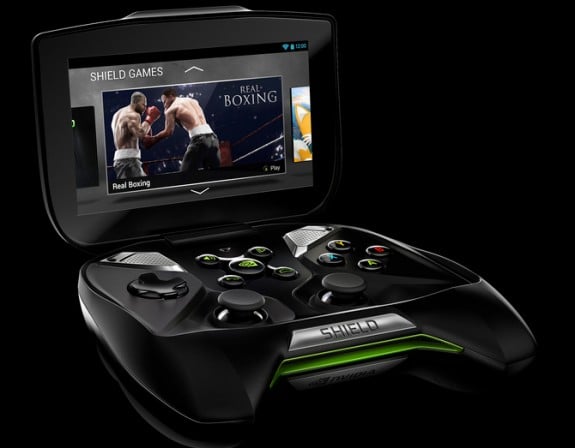 One of the big draws of the NVIDIA Shield is the PC game streaming feature. The Shield can stream games from a PC in the same way the PlayStation Vita will be able to stream PlayStation 4 games. As long as a supported PC and the Shield are on the same Wi-Fi network, gamers can play their games on their couch, or anywhere else in their house.
The Shield's PC streaming feature will ship in beta form on the device. It will only support a limited number of games at launch and will come with a list of recommended routers. Sometime after launch NVIDIA will release an update that will expand the feature to all PC games regardless of the service they use.
Unfortunately, there is no list of supported games at the moment, though NVIDIA did show the device is capable of streaming games such as Borderlands 2 and Need For Speed: Most Wanted.
NVIDIA Shield is available for pre-order now for $299.99 from a variety of retailers including NewEgg, GameStop and NVIDIA itself. Those who pre-order the Android console will also get a limited edition t-shirt with a Shield design on it.

As an Amazon Associate I earn from qualifying purchases.