NVIDIA SHIELD Tablet K1 Hands-On & First Impressions
Today NVIDIA announced the ultimate Android tablet just in time for the holiday season. Replacing the original from last year is the all-new SHIELD Tablet K1 with an 8-inch Full HD display, a powerful Tegra K1 Quad-core processor, dual front facing speakers and more all for only $199.
Last year the company released what was arguably one of the best tablets of 2014 with the original SHIELD Tablet, which was $299. However, it had a few small issues with the battery, but was still a great device. For 2015 though, they have essentially "re-launched" a new and improved version that's even better, while costing less. Below are more details, a few photos, and our first impressions of the new NVIDIA SHIELD Tablet K1.
The new 2015 SHIELD Tablet K1 is very similar to the original from last year, but does away with the included stylus, has an improved design, better features and a lower price tag. It's available starting today, November 17th, from the NVIDIA Store, Best Buy, Amazon and Newegg for only $199. Not to mention optional but highly recommended accessories like the SHIELD tablet cover and game controller.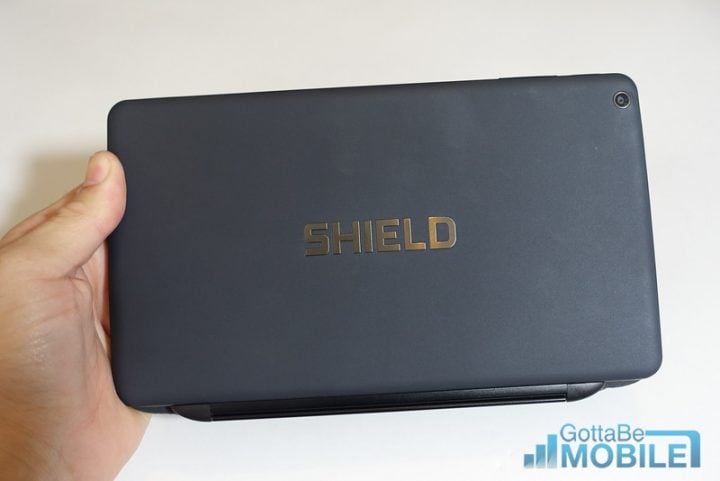 NVIDIA's new device is a typical Android 5.1 Lollipop tablet, but is also geared towards gamers and has tons of additional features with gaming in mind. And while most average Android tablet buyers will love the overall experience and wallet-friendly price, hard-core gamers will certainly want to consider this as their next tablet for many reasons we'll mention below.
As we said above it's very similar to last years model, but the NVIDIA SHIELD Tablet K1 comes without a charger, and no stylus, which is part of the reason for the impressively low $199 price tag. It charges via a typical micro-USB cable that all Android users own these days, and NVIDIA is selling an optional "world charger" for those who need a charger for the tablet. Yes, this will come out of the box with no charger, but NVIDIA is assuming most users own a micro-USB charger by now.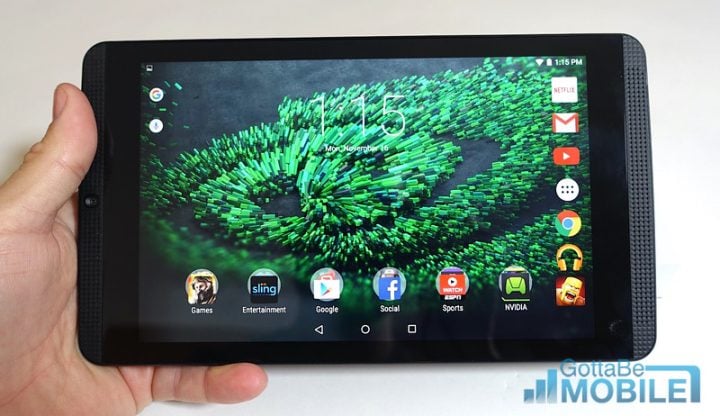 Display & Design
The new SHIELD Tablet K1 looks and feels great, has a slightly tweaked and improved design, and packs plenty of top-tier specs and features to make it arguably the best Android tablet in 2015 for under $200. Then, buying either of the two official NVIDIA accessories turns it from a traditional Android tablet into the ultimate Android gaming device. Everything from console-quality games on a tablet with the SHIELD controller, to live-streaming actual PC games right to the tablet with NVIDIA GeForce Now.
NVIDIA sent over the new SHIELD Tablet K1, and the impressive SHIELD Tablet Cover. Below is an image of the tablet and the stand, which is very versatile, easy to use, and magnetically attaches making it a painless experience. It magnetically attaches only one way, and magnets on the tablet allow for three different viewing angles. Rather than use those orgami-style confusing smart covers, the SHIELD tablet cover is simple, sturdy, and works great. It's by far the best tablet stand and cover I've ever used.
The 8-inch screen is full HD, but being $199 and only an LCD panel it's my least favorite aspect of the new SHIELD K1 tablet. While the full HD resolution looks great while browsing the web, playing games, or opening apps, it can't compete with the iPad, Samsung Galaxy Tab S2 or others in terms of color or brightness. The screen is the weakest link, but still pretty good considering the $199 price tag. It isn't the best, but it's not $499 either.
We have the same dual-front facing speakers, and new bass flex ports on each end for added sound output. It sounds extremely good, feels well made, and is a well-rounded tablet. However, the buttons up top are pretty flush, and rather hard to find and hit at times. Turning up the volume can often be a challenge, but over time surely I'll get used to the placement and hard push that's required.
There's nothing on bottom but one of the speaker ports, then up top is another bass speaker port, the HDMI-out, micro-SD charging port and 3.5mm headphone jack. Then on the top (or right side) is the power, volume up/down buttons, and the micro-SD slot for expanding storage. It only has 16GB, which isn't much, but I have a 128GB micro-SD full of some of the latest games that can fully take advantage of the NVIDIA K1 processor. Need for Speed No Limits received an update today, enabling true console-quality graphics that can only be played on this tablet.
It's also worth noting the NVIDIA SHIELD Tablet K1 is certified for Netflix 1080p HD video playback. Most Android and iOS devices only playback at 720p, which means watching movies or TV shows with Netflix will be better than ever on the SHIELD.
Here's all the hardware specs, then a few more details and pictures for those interested.
NVIDIA SHIELD Tablet K1 Specs
8-inch 1920 x 1200 Full HD LCD Display
NVIDIA Tegra K1 Quad-Core Processor and 2GB of RAM
16GB internal storage with a micro-SD slot expansion (up to 128GB)
Android 5.1.1 Lollipop (Marshmallow coming soon)
Dual front-facing speakers with dual bass reflex ports on each side
5 Megapixel front and rear cameras with HDR, 1080p video, selfies and live filters
Mini HDMI-out for streaming 4K video and HD games to the bigscreen
19.75 Watt hour Lithium ion Battery (10 hours of mixed usage)
more
Gaming Features
SHIELD controller compatible
GeForce NOW cloud gaming
Console Mode
NVIDIA ShadowPlay
As buyers can see above, it features a lot of the same specs as the original. With the same processor, 2GB of RAM, 16GB of storage, front facing speakers and more. However the design has been refined, it has a slip-resistant back making it easier to hold and use, improved 5 megapixel cameras, and that low price tag. The battery was overheating in the original, but NVIDIA claims to have fixed that problem this time around.
Then of course buyers can get the SHIELD controller for console-quality gaming for $59.99, or the Tablet K1 Cover and kickstand for $39, which is what we'd recommend and mentioned above.
The SHIELD Tablet K1 comes with three months of GeForce Now cloud game streaming free, then will be $7.99 per month for those interested. It also has a new "console mode" which turns the entire tablet off while using HDMI-out. Enabling gamers to use the controller for an even better experience. Essentially making it a game-console where users can play games from the Play Store, or NVIDIA's  SHIELD Hub store of certified games right on their TV. That or stream PC games to the SHIELD, which can be connected to a 60-inch HDTV for an amazing gaming experience. It's a very versatile gaming tablet, and an awesome overall device for those who'd just like a budget-friendly Android tablet.
Software
NVIDIA's new Tablet K1 runs the latest stock Android 5.1.1 Lollipop, and will see an update to Android 6.0 Marshmallow as soon as possible, but likely not until early 2016. As a regular tablet loading up Netflix, HBO Go, WatchESPN and more from the Google Play Store is fast, fluid, and overall it performs pretty great.
We've yet to experience any lag or stutters while watching Netflix, streaming Sling TV, or playing games from Clash of Clans, to the most graphic intensive options like Dead Effect 2 or Madden Mobile. The powerful quad-core processor and 2GB of RAM seems like plenty, although we were wishing for 3GB of RAM and more storage. Last year NVIDIA offered a 32GB 4G LTE model, but that doesn't appear to be the case in 2015.
Along with stock Android are all of NVIDIA's small changes. There's a fullscreen mode, instant pairing to the SHIELD controller, Cast support for the Google Chromecast or SHIELD TV, and built-in live game recording and streaming using Twitch. All of which can instantly be accessed from the notification pulldown bar in quick settings. Next to WiFi, Bluetooth, and other controls. With HDMI-out users get the console mode we mentioned earlier, then a full mirror mode as well, showing content on both the tablet and your bigscreen TV.
First Impressions
NVIDIA is basically offering a very simple and straightforward Android tablet experience, but with lots of possibilities and options for gamers. The highlights of this tablet are the well-rounded features, specs and design all for $199, making it the perfect tablet for anyone to buy this holiday season. Then gamers will love everything else it has to offer as well.
While there are a lot of good tablets fur under $200, this is one of the best. It has the latest cutting edge hardware and software, a powerful processor, two pretty great speakers and cameras, and stock Android. All running inside of a device with a pretty decent design. It feels better than the Tegra Note 7, NVIDIA's first tablet, and certainly feels like it's worth $199.
Those looking for a great tablet experience without breaking the bank will want to certainly consider this over cheap options from Lenovo, Acer and others, and if you're a gamer, this is the perfect Android tablet for you.
We'll need to spend more time with the new SHIELD Tablet K1 and all of it's features like console mode, GeForce Now, and Twitch live game streaming before we share more thoughts and details in our full review. For now though, we're pretty impressed with everything so far, especially considering the price. It isn't the best tablet, but for $199, it's hard to beat. Grab the NVIDIA SHIELD Tablet K1 and at least the kickstand cover starting today. Stay tuned for more details regarding Android 6.0, and as NVIDIA continues to add to the more than 400 games specifically optimized for their devices, all available in the SHIELD Hub app pre-installed on the tablet.
The original NVIDIA SHIELD Tablet was pretty good for $299, but this year the SHIELD Tablet K1 for $199 is a steal.