NVIDIA Tegra Note 7 Leak Reveals a Nexus 7 Rival
The popular mobile and desktop chip-maker NVIDIA is about to dive much deeper into the Android tablet market, by releasing its very own 7-inch gaming and multimedia tablet platform called the Tegra Note 7. We knew the next goal after NVIDIA SHIELD was a tablet, and today we're getting our first hands-on video of the device in action.
The Tegra Note 7 Tablet will be an impressive slate, which many expect will rival the Google Nexus 7, only it comes with front facing speakers, a integrated Stylus like the Galaxy Note 8, and is powered by an impressive quad-core Tegra 4 processor. While the device isn't available quite yet and NVIDIA only confirming it back in September, today we're seeing it live in a leaked hands-on video from NVIDIA themselves spotted by NotebookItalia.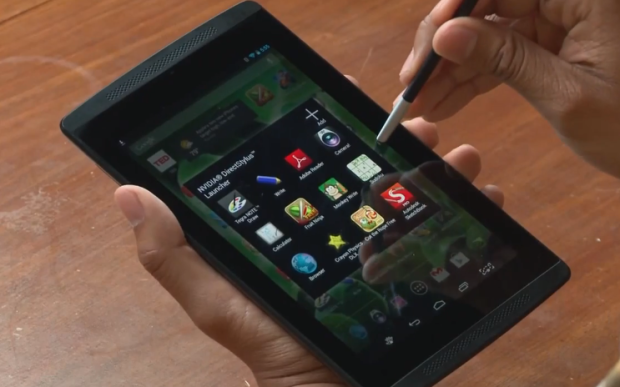 The Tegra Note 7 platform won't be tablets sold directly by NVIDIA. Instead they'll be using the wide array of partners from its desktop graphics partnerships. Companies like eVGA, PNY, and ZOTAC just to name a few. Which means you'll soon be able to buy an eVGA Tegra Note 7 tablet and enjoy all the awesome features shown below, not to mention access to the Google Play Store and NVIDIA's own TegraZone for enhanced Android gaming.
The Tegra Note 7 features a 7-inch 720p HD display, NVIDIA's 1.9 GHz quad-core Tegra 4 with 2GB of RAM, 8GB of internal storage as well as a micro-SD slot for expansion. Then just like the Nexus 7 you'll enjoy a 5 megapixel camera, and a front shooter for video chatting on Hangouts. Then where it stands out is the dual front facing stereo speakers – true stereo speakers. Not to mention a built-in stylus with some bleeding edge software to improve the stylus experience like never before. The two videos below give us our first look at the slate and some of those impressive new stylus options. The feature at 2:30 is quite impressive if you ask us.
That isn't all either. This 7-inch quad-core powerhouse tablet runs stock Android 4.3 Jelly Bean, and could possibly launch with Android 4.4 to better compete with Google's own Nexus 7. So far there's no exact date, but we should be learning more within the next few weeks. NotebookItalia states the 12th is when NVIDIA may reveal its plans.
The second video below is a shorter and more generic look at the new Android tablet in action. Showcasing the clip-on protective case, games, apps, and many more functions of this upcoming tablet.
So when can you get one? We're not sure just yet, but we've been hearing $199 for this tablet, which would undercut both the Nexus 7 and the Kindle Fire HDX. If NVIDIA can deliver all of this for $199 it should be a hot tablet for a great price just in time for holiday shoppers.