NVIDIA Tegra Zone App for Android Apps Launches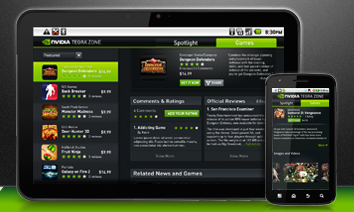 It can be tough to find the right apps in the Android Market and especially difficult finding games that take advantage of all the mobile horsepower stuffed in the latest Android phones and tablets. NVIDIA's trying to ease the pain a bit by launching the Tegra Zone app for Android devices today.
Tegra Zone is an app that highlights what NVIDIA considers the best Android games that are optimized to exploit the potential of the Tegra processor. Users can find professional game reviews, video demos and user ratings on the Tegra Zone app. As of now, there's a pretty limited number of titles being highlighted, but that should grow as time goes on.
You can download Tegra Zone from NVIDIA.

As an Amazon Associate I earn from qualifying purchases.