Nyko Smart Clip Controller Mount: A Better SmartGlass Experience
At E3 Nyko introduced its latest accessory for the Xbox 360, Xbox One and PlayStation 4 that makes using a second screen while gaming a bit easier.
The new Nyko Smart Clip is an accessory that fits around ether an Xbox One or PlayStation 4 controller and holds a smartphone just above the controller for easier access. According to Polygon creator Michael Quiroz thought up the device while watching his girlfriend play Kingdom Hearts.
Quiroz's girlfriend would routinely put down her smartphone to check walkthroughs of the game, then put her phone back down and pick the controller up again. Quiroz figured it'd be easier to attach the smartphone to the controller so she wouldn't have to constantly pick up one device and put down another.
The Nyko Smart Clip solves that issue, making it easier to find walkthroughs for games on a smartphone without ever switching between devices.
Nyko's new accessory also makes the second screen experience with the PlayStation App and SmartGlass easier. Many games at E3 this year feature some sort of second-screen experience, and the new Nyko accessory makes it much easier to play a game and see the second screen at the same time.
The Nyko Smart Clip will work with any iPhone, Android phone, Windows Phone or BlackBerry thanks to its rubber clips. The accessory even works with phones in cases up to 3.5-inches wide. The clip should even hold the massive Samsung Galaxy Note 2 with a case given its size limits.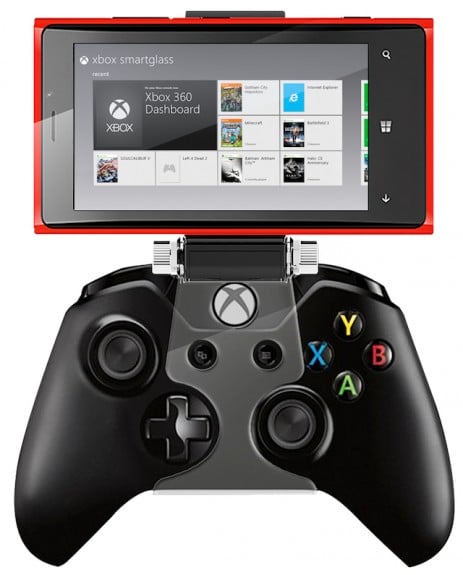 While the Nyko Smart Clip is a great way to make the second screen experience easier, it can also help gamers who use the Xbox 360 controller with games on their smartphone (or who plan to find a way to use the Xbox One or PS4 controllers). Theoretically the accessory can turn any smartphone into something resembling the NVIDIA Shield for better mobile gaming.