OGT Tablet Boasts Thin Profile, True Color Display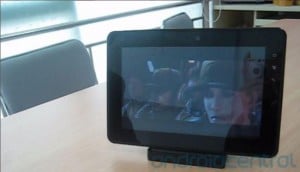 OGT is preparing to launch its own Android tablet that will boast a number of industry-leading features to differentiate itself from the plethora of Android tablets that have launched or are launching soon. The device will pack a 1 GHz processor in a slim 7 mm profile and will come in either 16 GB or 32 GB of storage options.
Additionally, users can also augment storage capacity via a micro SDHC card.
The tablet will come in either a WiFi-only edition or a model that also packs in 3G connectivity for wireless mobile broadband connection through your local cellular network. There's also a 5-megapixel rear camera and a 3-megapixel front-facing camera.
What sets the unit apart, aside from the slim profile, is the display. The tablet is said to pack in 188 pixels per inch on a true color display, which has more pixels packed in than the Xoom's 152 ppi or the iPad/iPad 2's 132 ppi.
Via: Android Central