OLPC Announces 7-inch Android XO Tablet For U.S.
One Laptop Per Child will bring a 7-inch Android-based XO Tablet to the U.S. in select Walmart stores sometime in the near future.
The new XO Tablet looks a lot like the Nexus 7 with a green border around the sides and a ring hanging off one corner according to photos from Engadget. The device uses a 1024×600 display like the recent Acer Iconia B1 and a 1.6GHz dual-core processor, 1GB of RAM, 8GB of internal storage and a 3800 mAh battery.
For more CES 2013 coverage, please visit the GottaBeMobile CES 2013 page.
The XO Tablet runs stock Android 4.2 Jelly Bean, but it boots into a custom app made for kids. The special app turns the XO Tablet into a tablet for children with quick access to apps and games that parents approve as well as educational books.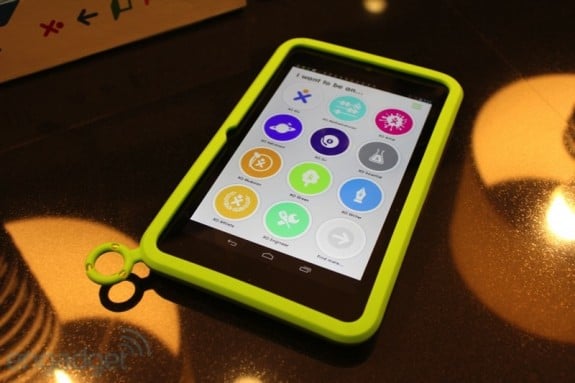 The kid-specific app comes from Yves Béhar who also designed the OUYA console and the Jawbone Jambox. It features a lot of bright colors and easy-to-tap circles for each app.
OLPC pre-loads the XO Tablet with a number apps and books, each tailored to a specific "dream." When children use the tablet they can choose from dreams of professions to follow such as mathematician, astronaut, artist or chef. The app will tailor the items children view based on their dream, which they can change at any time they want to.
The XO Tablet isn't just for kids, however. Parents can exit out of the kid-specific app launch into pure Android 4.2 Jelly Bean to access any other app they want to install one the device. The phone isn't as powerful as something like a Nexus 7, but it's great for parents who don't already have a tablet of some sort.
OLPC expects to have the XO Tablet in Walmart stores by March of this year. There's no word on the price of the tablet, though OLPC did say it will be "competitive."