Omnicharge Omni 20+ Review
The Omnicharge Omni 20+ is the most versatile portable charger you can buy. It's compact, features USB C charging, DC charging so you can leave bulky adapters at home and even an AC outlet. That's in addition to Fast Charging USB ports and wireless charging. Essentially this can charge or power about anything you can think of sending up to 100W of power. All for $199 on Amazon.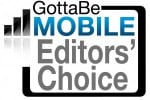 Over the last month, I've used this to keep my 15-inch MacBook Pro powered up while remotely covering an Apple Event, wirelessly charging a variety of devices and keeping my gear all charged up while at events and even when working in the hospital. The Omni 20+ is the perfect accessory for remote workers and mobile professionals. The Omni 20+ earns a Gotta Be Mobile Editor's Choice Award for delivering everything mobile workers need in a single package.
While there are more and more high output battery packs on the market, the Omni 20+ is the only one I've found that can output 60W over USB C and 100W through DC or AC output. The 60W USB C output is the most important to me since it means I can easily charge my 15-inch MacBook Pro.
While I normally charge it with an 87W adapter at home, the 60W Omnicharge Omni 20+ portable charger adds a few hours of productivity to my MacBook Pro. Internally the battery pack uses protection to send the right amount of power to your devices.
It also works great to charge up the new iPad Pro and to keep my iPhone charged up while I use it as a mobile hotspot. I can also plug my DJI Mavic Drone battery charger into it to top those batteries up. The two USB fast charging ports are great at handling a Go Pro, headphones or a phone. In short, the Omni 20+ can charge everything in my bag.
If you own an older MacBook Pro with MagSafe 2, you can buy a DC to MagSafe 2 adapter for $19.99 that will charge your MacBook directly or buy a third party adapter on Amazon. They also sell a DC to Surface Cable and a variety of popular DC to laptop charging cords.
A small OLED display on the front shows the current state of the battery. No little LEDs to guess at, you can see the battery percentage in the upper right corner. The display shows which charging options are currently active and if the battery is charging or discharging. It also shows the battery temperature. It looks cool and it's useful.
Wireless charging is easy to use. Turn on the battery pack and then set your phone or AirPods on the back half of the case. It's one of the most reliable wireless charging options I've found for AirPods. The wireless charger sends up to 10W of power.
Even though it packs in a ton of charging options and a 72Wh 20,400 mAh battery, this is a very portable battery pack. It is just over an inch thick and it is about a 5-inch wide square. While it's not something I keep in a pocket it fits perfectly into a small bag or backpack and it only adds 1.4 pounds.
It takes about three hours to fully charge the Omni 20+ with USB C or the DC input. You can pass through charge from either of these options to the AC port or USB A ports. This lets you charge up your gadgets and battery at the end of the day. You cannot pass through between the USB C and DC ports.
The Omnicharge Omni 20+ is a great portable charger that offers versatility and options not found on most battery packs. It is more expensive than some options, but it delivers more than your average battery pack. You can order yours on Amazon for $199 or learn more at Omnicharge.