On the Road Reviews: OSO Dash Grip, Waze, and Twist
Over the recent Labor Day holiday here in the US, my lovely wife and I took a road trip back to Chicago to visit family. It's the first time we've been back to the Windy City in the summer for quite some time and boy did we have a great time. But, that's not the purpose of this post. Prior to the trip I had been experimenting with a couple of mobile Apps for travel, and had received a review unit of a dashboard mount, so I thought I'd give them all a once over along the way. Here's my report.
The OSO Dash Grip
Because most of my traveling is usually along routes I'm well familiar with I don't often use GPS Apps or other Apps that require a dashboard mount in my car. I've used them in the past and mostly they just sit there (or fall off.) I don't play music, audiobooks, or podcasts on my iPhone when traveling, instead I use an iPod touch, and there's a handy place on my dash to place the iPod Touch while driving. But, since I was going to be testing out the mobile Apps, Waze and Twist, I thought this would be a good time to revisit the idea of a dashboard mount.
Bottom line on this, I like the OSO Dash Grip very much. It works as advertised and on at least one level, better than other dash mounting devices I've tried. Designed to hold devices up to 5 inches thick, you secure it via the suction cup to a place on the dash. Open up the gripping arms and insert your iPhone (or any other phone) and you're off and running.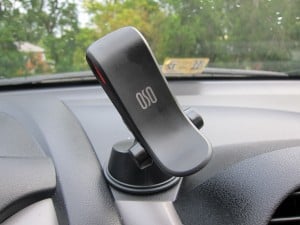 One of the problems I've had with dashboard mounts in the past is that the suction cups usually don't stay mounted, especially in extreme heat or cold. We drive a Honda Fit, and while we love the car, it is essentially a rolling collection of windows that allows quite a bit of sunlight into the car. In warm weather that can heat up the dash and everything else even with AC blasting. This has caused other dashboard mounts I've tried to lose their suction and fall off while driving, or after the car has been sitting for awhile.
This did not occur with the OSO mount. We had a hot and sunny weekend of traveling, and the OSO mount held its suction the entire trip. As a matter of fact, it is still holding firm more more than 10 days after first being attached. So, I give the OSO Dashboard mount high marks on that front. In fact, I give it high marks all around. It is easy to adjust the angle of the OSO to fit your device and once things are locked down they seem to stay that way, even with the vibrations cause by the state of highways and roads her in the US roads these days.
Waze is the Way
Many of you have probably already heard about Waze. It's a crowd sourced or social GPS App that is increasingly popular on both iOS and Android. I hadn't given it a try until about a month or so ago, and I have to tell you it is now my GPS App of choice. Again, I rarely use GPS Apps as I don't drive into unchartered territory much, but Waze takes my prize for GPS Apps for a couple of reasons.
Crowd Sourcing: Essentially Waze tells you if there's a problem on your route. Actually other Waze users tell you this as they report traffic slowdowns and other issues (speed traps) and you get the benefit of that through the App, allowing you to adjust your trip accordingly. Waze also has info on gas prices along your route.
It's free: Yep. It is absolutely free. Sure you have to put up with an Ad or two, but you can't beat that price.
Bluetooth: Waze is the most consistent App in terms of using Bluetooth connectivity to my earpiece (I use an Jawbone ERA) that I've found. I experience no stutters, no fade ins or outs, or any of the other problems I have experienced with other GPS Apps.
I've never been that enthused about crowd sourcing or social Apps here locally. These things seem to take awhile to catch on where I live. I can't say that about Waze, as there seems to be quite a few users of the App in our area, which makes me believe that the folks behind Waze are on to something.
Color me impressed with Waze.
Twist
Twist allows you to set up a trip and automatically notify folks at your destination about your progress. You set up a Twist and once you're on the road, Twist sends a text message to your intended target that you're on the way and an ETA. If you make a detour or your plans change, Twist will adjust your arrival time. While this doesn't happen with every stop and start of your trip, it could come in handy for those who drive in areas where traffic jams are a way of life. Once you get close to your destination, Twist informs the folks you're heading to that you're close. (One minute away.)
I've actually taken to using Twist when I head home late a night instead of texting my wife with the usual "on the way."  And, on the Labor Day trip, I sent my in-laws a trip, that by and large kept them in the loop as we drove for about 11 hours.
I'd love to see Twist somehow integrated with Siri, so that I could create a Twist in the same way I typically send a text to my wife when I'm leaving via voice. Maybe on day.
Again, I'm not one who uses a lot of travel Apps or travel accessories when doing so. But taking advantage of this long trip allowed me to revisit the benefits some of these Apps and at least the OSO Dashboard mount could be of assistance for those who travel quite a bit.