OnePlus 2 Unboxing & First Impressions
This week I finally put my hands on the impressive new OnePlus 2 smartphone. This device has a big and bright 5.5-inch display, 64GB of storage, 4GB of RAM like the Galaxy Note 5, a fingerprint scanner to take on Apple and Samsung, and more. The kicker, is that all of this only costs $389. Interested? Below is our unboxing video, along with my hands-on and some first impressions.
The second device from this new company, the OnePlus 2 smartphone, is officially available in multiple regions around the globe as long as you have an invite. It went on sale back on August 11th but was delayed a few weeks in the United States. Now that invite orders are shipping, here's some thoughts on this "flagship killer" and some photos and video for those considering it vs some of the big-screen competition.
Read: OnePlus 2 Release: What Buyers Should Know
OnePlus has been hyping up this phone for months, delivered some awesome features, but still cut back on a few things even though the company motto is "Never Settle". We'll talk more about that below. With that in mind, here is our OnePlus 2 unboxing, hands-on, and first impressions of this new phone.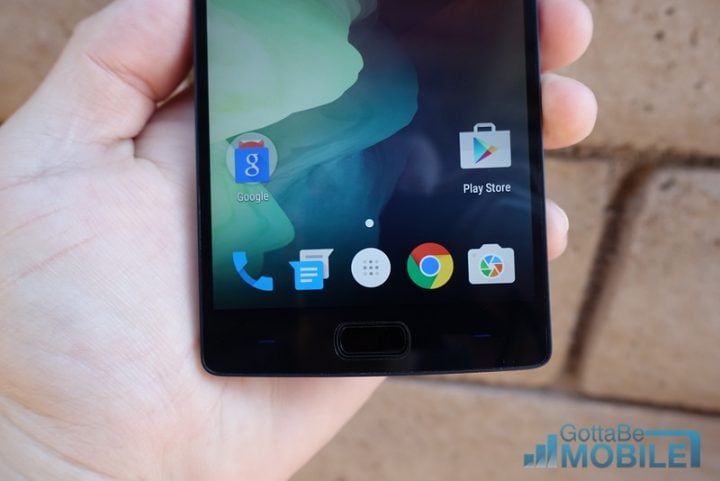 The first thing you'll notice is the sleek design and neat packaging. The small red box has the big 5.5-inch smartphone wrapped in plastic, and the stock option comes with a beautifully textured Sandstone back finish, aluminum bezel, and durable Gorilla Glass 4 on the front to keep the screen safe from scratches and damage. I was surprised to see a screen protector already on it right out of the box. That's a plus, no pun intended.
OnePlus is aiming to offer almost everything the competition does, but at a much lower price point. So far I'm extremely impressed with what I'm seeing, but I'll need more time with it before passing judgement or making any claims on if it's worth buying. It feels good, it's fast, and it's wallet friendly. Buyers will get a lot of phone for only $389. Here's our hands-on video, a detailed breakdown of the specs and features, then proceed to check out the fancy premium design in our picture gallery below.
Last year this new company's first smartphone, the OnePlus One, wowed a lot of buyers and had plenty to offer, but the invite system was so poorly done that buyers had to wait up to 4-5 months before they even had a chance to get it. Which resulted in a good phone being in very few users hands or pockets. This year they've promised a much improved invite system with 30x as much inventory. And even though the launch was delayed 2-3 weeks, those with an invite can buy it right now, pay $13 for shipping, and get it in two days.
So what makes the OnePlus 2 special, or even a smartphone to consider over the Galaxy Note 5, Galaxy S6, LG G4, or even the new Moto X Pure Edition? The features, design, and the specs. Here's the full rundown.
OnePlus 2 Specs
5.5-inch 1920 x 1080p Full HD display
8-core Snapdragon 810 processor with 4GB of DDR4 RAM
16 or 64GB of storage (no micro-SD card)
Android 5.1.1 Lollipop (Oxygen OS)
13 Megapixel Laser Auto focus camera with optical image stabilization
5 MP from camera
3,300

mAh

battery
USB Type-C reversible charging port (no Quick Charging, and only USB 2.0)
Fingerprint scanner for security
Bottom-facing speakers
5 StyleSwap back covers (Sandstone Black, Rosewood, Kevlar, Black Wood, & Bamboo)
more
They call it a flagship killer and have a motto that buyers should never settle, but you'll notice a few things missing from that spec list meaning they settled in favor of a lower price. Which some will be ok with. One being a micro-SD card to expand storage, something Samsung buyers know plenty about, and there's no NFC.
NFC is used for easy pairing of Bluetooth devices, and will be used alongside OnePlus 2's extremely accurate fingerprint scanner to make mobile payments with Android Pay when it's released alongside Android 6.0 Marshmallow at the end of September. To see those two things be left out, when they're trying to take on Samsung, is a bit frustrating. That said, 64GB is plenty (especially for $389) and mobile payments is still something not too many people use.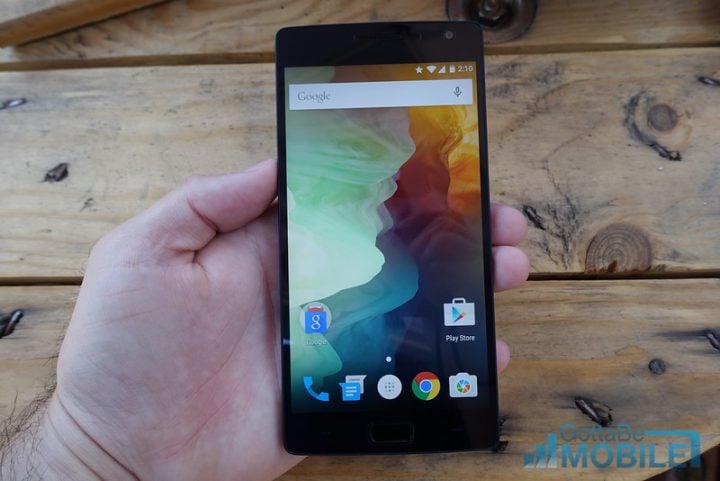 OnePlus is one of the first to launch a phone with USB Type-C, which is the future of Android smartphone ports for charging and syncing. It's reversible like the lightning cable, extremely fast and capable, and usually supports USB 3.0 speeds. With the OnePlus 2 though, it's only USB 2.0 which is still fast enough, but it removes support for Quick Charge, something most phones released over the last 12-18 months have. That said, it's filled with a huge 3,300 mAh battery and should offer excellent battery life. The original was the unofficial king of battery life, even though hardly anyone knows about it.
All of that technical stuff out of the way, average buyers are probably wondering how the phone looks, feels, and operates, and if it's worth trying to get over something from a company you know. So far I'm extremely impressed with the design, build quality, software, and everything else. Compared to the Galaxy S6 the OnePlus 2 screen and colors seem washed out, and my fiance described it as looking "cloudy" compared to her Note 4. This is likely because we're used to the bright vivid colors of Samsung AMOLED screens. It's still very bright, crisp, and good looking, but is noticeably different than the Galaxy S6. The version of Android 5.1.1 Lollipop on board is fast and fluid, nearly stock just like Google's Nexus devices, yet highly customizable. They call it the Oxygen OS.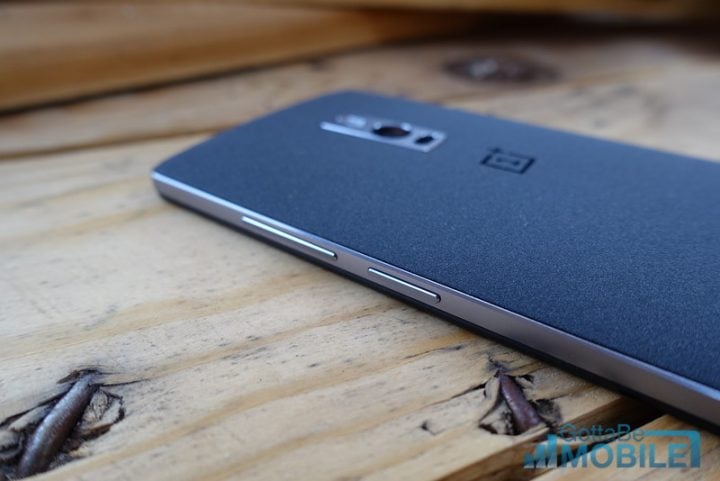 In settings users can set it to have on-screen buttons like the Moto X or Nexus devices, or use the capacitive touch buttons in the front like Samsung phones have. The fingerprint scanner isn't a physical button, but still serves as the home key. Then there's two lines on each side that act as back, or recent apps, like all Android phones. This can all be controlled, customized, or even turned off in settings. The amount of options and customization is nice, but more on that in our full review.
I've had the phone since last night, so my impressions are only based on one day of usage. So far though, it has been a joy to use. The fingerprint scanner is lightning quick, maybe faster than Samsung. Although I keep trying to push it, but users will get used to it quick. I actually set the home key to act as a shortcut for the camera, and a double tap instantly launches the 13 megapixel shooter, just like the Galaxy S6. A long press brings up Google Now, which was also an option that's customizable I picked.
The camera seems to take really, really good photos, but it's slow. Compared to my Galaxy S6 the autofocus and overall shutter speed just isn't very fast. The photos look great, but I missed the shot three times in a row. There's some neat settings for the camera I'll have to dig into later, but I was expecting the camera to be much faster.
In closing, the aluminum edges are quite nice, but there's a small lip from the aluminum to the front fascia which doesn't feel as premium as it could be. That's just nitpicking. There's also a 3-stage switch on the left edge that controls the volume controls in Android 5.1 Lollipop. Basically all notifications, priority only, and do-not-disturb. We could find a better use for this, but it's actually a neat approach I can see myself getting used to rather quickly. That said, they could have left that out and gave us NFC, or a micro-SD slot.
Stay tuned for more details, plenty of coverage and a full review. Drop a comment below if you have any questions about the OnePlus 2.

As an Amazon Associate I earn from qualifying purchases.