OnLive Could Be In Trouble With Microsoft Over OnLive Desktop
It looks like OnLive, the company that specializes in cloud gaming and desktops, could be in trouble with Microsoft. Microsoft believes that OnLive Desktop violates licensing terms for both Windows 7 and Microsoft Office.
OnLive Desktop is an iPad and Android app that lets users use a Windows 7 desktop along with Office and Adobe Reader on their tablets. The desktop is hosted on OnLive's servers, as are all of the files saved in each account. The trouble is OnLive might not have the proper licenses to stream the Microsoft OS and programs to tablets.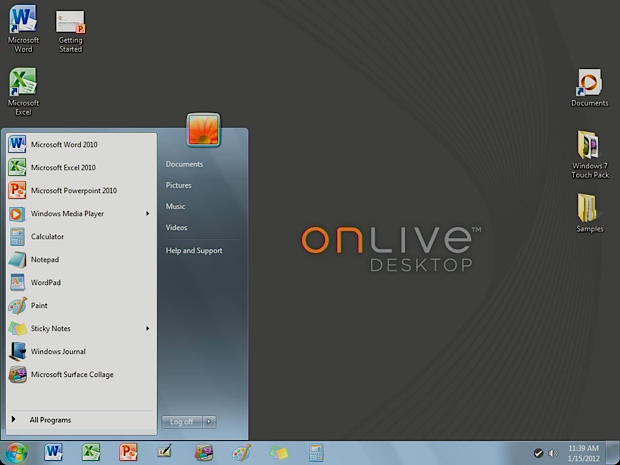 Microsoft does allow companies to offer remote "desktop-like functionality," but Windows 7 and Office aren't included in those licenses. For those, the end user needs to own the licenses. With OnLive Desktop, that isn't the case.
Microsoft also requires companies hosting Windows 7 and Office to have dedicated hardware for each user. That's why services like GoToMyPC work, accessing hardware that the end users own. With OnLive, its presumed that each client is run on the company's servers. It's unlikely that OnLive actually has an individual PC for each OnLive Desktop user.
Microsoft is "engaged with OnLive with the hope of bringing them into a properly licensed scenario," and is "committed to seeing this issue is resolved."
OnLive hasn't commented on the issue yet, and there hasn't been an interruption of the service.
For now, OnLive Desktops users don't appear to have anything to worry about. You can still use the Windows 7 desktop and Office suite for free until OnLive says otherwise.
Make sure you backup any important files that you store on OnLive Desktop, just in case whatever talks are going on between the two companies break down at any point.
Via: MacRumors

As an Amazon Associate I earn from qualifying purchases.