Original Moto G Android 5.0 Lollipop Update Coming Soon
In October when Google announced the brand new Android 5.0 Lollipop update many manufacturers promised quick updates, and that included Motorola. Google's been busy pushing updates to Nexus users, as well as a new Android 5.0.1 and Android 5.0.2 update to fix some bugs, and today we've learned the original Moto G (2013) is up next to get the Android 5.0 update.
The Moto G update started but was quickly delayed, and we've since seen updates arrive for the new Moto G released in 2014, as well as the Moto X and various other devices. However, those with the original Moto G have been stuck on Android 4.4 KitKat, but recent reports suggest the upgrade is coming soon.
Read: Motorola Android 5.0 Lollipop Update Breakdown [2015]
Motorola has been busy pushing out updates for many key devices, and that includes the Moto G and Moto X around the globe and for some carriers here in the United States. The original Moto G (2013) model received it in India and a few other regions, but not stateside. That said, this week notifications went out to all original Moto G owners confirming that the Android 5.0 Lollipop update is coming soon.
Motorola has done a good job in recent months when it comes to keeping owners informed about updates over on its blog, but sadly we've yet to see changes or updates to the Moto G page. That said, it appears the update to Android 5.0 is in the final stages, and should be coming sooner rather than later.
This week owners of the original first generation Moto G released in 2013 received a notification on their device urging them to update the Motorola Update Services app from the Google Play Store to prepare the device for an update to Android 5.0 Lollipop. We saw a similar thing last year, but this is another reminder, and this time it says the update is "coming soon" which is great news for owners.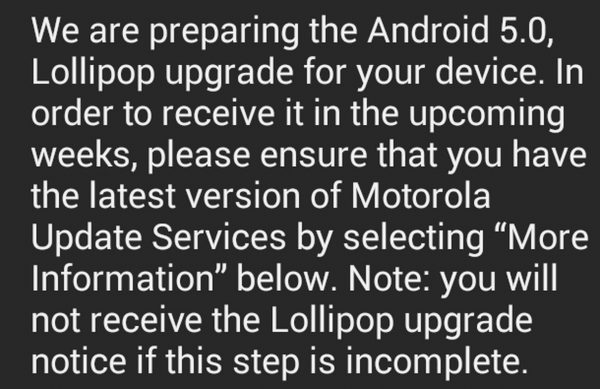 The notification prompts owners to update Motorola's services, reminds them that the device won't be able to receive Android 5.0 Lollipop unless this has been done, and confirms the update will be released in the coming weeks. It's an interesting approach, but certainly something many owners can appreciate. Motorola's helping those with the original Moto G more easily be prepared for the update.
Read: Android 5.0 vs Android 4.4 KitKat: What's New in Lollipop
The Moto G Android 5.0 Lollipop update will introduce an entire suite of new features, a completely redesigned and improved user interface full of lively colors, animations and effects, and much much more. It's also expected to improve performance and battery life, among other things.
Verizon was one of the first carriers in the United States to offer the Moto G (2013) and many owners have been patiently waiting for this update to arrive. And while it hasn't hit devices in the United States yet, from what we're seeing this week the update should be here soon enough. We're not sure if this will be Android 5.0.1 or Android 5.0.2 Lollipop, but will update as soon as we know more details. In the meantime check out Android 5.0 on the Moto X 2014, which has a very similar experience.

As an Amazon Associate I earn from qualifying purchases.