OS X Yosemite Public Beta Now Available
Right on schedule from yesterday's news that the OS X Yosemite public beta would be arriving today, Apple has now pushed out the software to those who signed up to participate.
OS X Yosemite has been in beta form for a while now and has only been available to registered developers, but anyone who signed up for the beta program over the last couple of months can now try out OS X Yosemite before it's officially released to the public.
A few days ago, it was rumored that the public beta for OS X Yosemite would be released at some point this month, and it turns out those reports were very much true.
However, one thing to be aware of is that Apple is limiting the number of users who can try out the new operating system. The last we heard, Apple is planning on limiting the OS X Yosemite public beta to the first one million users, but we're not sure if that number has changed. Either way, if you haven't signed up for the public beta program ahead of time, you're most likely out of luck, as sign-ups closed yesterday. It's possible that the public beta might not reach one million users, so you may get lucky and be able to get your chance without having to have signed up.
Participates who signed up are receiving a redemption code that they can redeem in the Mac App Store, where they can then download the public beta for free, just like they would with any new OS X update.
Of course, it's not recommended that you test beta software on your main device, or you can as long as you have Yosemite installed a separate partition so that it's separate from your main setup. We have a handy how-to guide on how to install OS X Yosemite and try it out without ruining your current OS X setup. You can either create a separate partition on your Mac, or run Yosemite off of a USB flash drive, both of which are good options, but the flash drive might be the easiest for most users.
OS X 10.10 Yosemite was announced and unveiled back in early June during Apple's annual WWDC developers conference where the company showed off a slew of features that users can expect out of the new operating system.
This new version of OS X comes with some pretty sweet features, including an all-new look and feel that finally puts OS X on par with iOS 7, thanks to the translucent windows and menus, as well as a flatter design overall, with redesigned icons that mimic iOS 7 icons, but still include some depth so that there's still a bit of that classic OS X feel.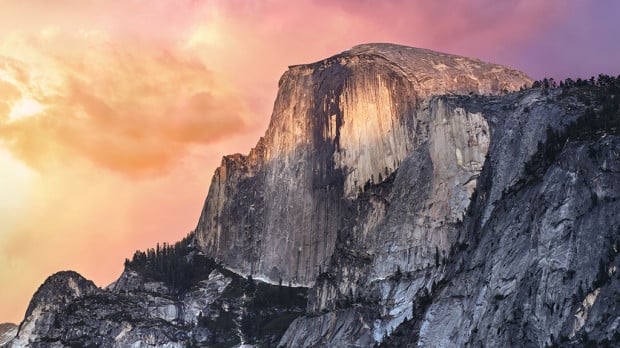 Furthermore, OS X 10.10 Yosemite also comes improvements made to Messages, including the ability to send and receive SMS text messages (rather than just iMessages), as well as make and receive phone calls as long as your iPhone is nearby and can connect to your Mac.
OS X Yosemite also includes Handoff, which is a feature of AirDrop that finally adds cross-platform support between iOS and OS X, allowing users to send files through AirDrop to either iOS or Mac computers.
One of the first things that Apple touted on stage with the new OS X 10.10 Yosemite was the look of the new icons. They've obviously been iOS-ified and include a flatter design that we've seen on the iPhone and iPad, but they still have a bit of depth in order to keep the design from going completely iOS.
Windows are also a lot flatter and less bubbly than we've seen with past versions of OS X, and navigation menus (as well as title bars of applications) are also a been transparent, similar to different elements in iOS 7, like bringing up Control Center.

As an Amazon Associate I earn from qualifying purchases.