Panasonic LUMIX Phone 101P: Camera with a Phone Instead of Phone with a Camera
Would you rather have a phone that has a camera or a camera that has a phone? I ask because Panasonic announced a camera that also integrates an Android 2.3 smartphone into the mix.
With a 4″ display and a 960×640 resolution, this looks like a nice device for the person who would rather have a nice point and shoot camera that adds phone functionality. Panasonic put the emphasis on the camera first. Being Panasonic I'm not surprised. In fact, that's the draw of the device.
Panasonic, known for their popular LUMIX point and shoot cameras, will jump into the phone arena in Japan (no word on if it will be available in the US), but inspires my questions.
What differences come from focusing on the camera first and making the smartphone portion of the device the add-on feature?
Will the phone features be limited compared to other Android 2.3 phones?
Do they skimp on the quality of the phone parts choosing to redirect the manufacturing costs into higher quality optics and sensors for the camera?
Or could this just be a cool camera-like body that really doesn't have that much over your average phone with a camera?
I love to take pictures and having a nice camera on a mobile device means I always have something to grab a photo. If you look at some of the great artistic photography that shows up on the web taken with iPhones and other Android phones, you know that with some talent a basic camera phone can do wonders. Imagine what people could do with a higher quality camera.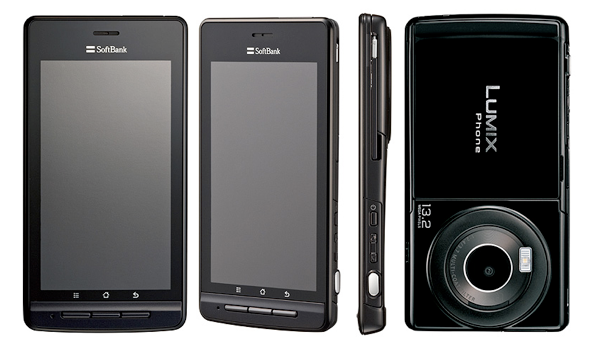 People don't like carrying too many devices. I used to carry a phone, a PDA, and a camera when I knew I'd be taking pictures. My jam-packed pockets weighed down my pants so badly, I looked like a teen with his pants-on-the-ground. Of course, I had the good sense to be embarrassed by this. The iPhone was the first decent phone that fixed all of this. Yet I still often carry a camera, even though my current phone – a Samsung Infuse 4G  – has a nice camera.
If indeed the Panasonic phone has a camera that competes with their other quality point and shoots, would you pay a premium for a phone like this? They haven't announced pricing yet, but lets say the camera makes the phone about $100 more than your average smartphone. Would you pay to get that good a camera?
Here are the full specs:
Android 2.3
4-inch QHD LCD screen with 960×540 resolution
13.2MP CMOS Lumix sensor with "Mobile Venus Engine"
waterproof body (IPX5/7)
TI OMAP4430 dual-core CPU (1GHz)
compatible with SoftBank's "Ultra Speed" high-speed data communication service (max. 21Mbps)
microSDHC card slot
IEEE802.11b/g/n Wifi
Bluetooth 2.1+EDR
infrared connection
e-wallet function
digital TV tuner
W-CDMA, GSM
size: 64×123×9.8mm weight: 128g
There is no word on whether this will ever make it outside of Japan let alone when or for how much. I would like to see it and would be very tempted if the camera takes pictures as well as the LUMIX cameras I've tested.
[poll id="27″]
(Via TechCrunch)