Pandigital Announces Three New 7-Inch Android Tablets
Pandigital announced a trio of new Android 2.3 Gingerbread tablets, all with seven-inch display, called the Pandigital Planet, Nova, and Star tablets. The company says that a fourth tablet will be announced in September to round out the new slate lineup, and details were not given about that model at this time. The fourth model will be the flagship of the group, so it will be the most performance packed.
As to the Planet, Nova, and Star tablets, the company says that these tablets start at a humble $159 depending on model and configuration. All three products sport a 7-inch display of various resolutions, feature Android 2.3 Gingerbread with some customizations, come with added-value apps and programs, and feature the ARM Cortex A9 processor with embedded graphics engine for good performance when watching videos, streaming content, or playing games.
All three tablets come with WiFi connectivity–no 3G option at this low price point, and feature applications such as Barnes & Noble's Nook app, GetJar app store, InTouch and Facebook, OfficeSuite Viewer, HDMISwitch, and more.
Both the Planet and Nova will feature a front-facing and rear-facing camera while the Star will rely solely on the rear-facing camera for image and video capture.
The Planet and Nova offer the higher screen resolution at 600 X 800 pixels while the Star's slimmer profile will give users a 480 X 800 resolution on the 7-inch display. All three tablets will sport lower resolutions than the 1024 X 600 resolution found on the HTC Flyer, HTC EVO View 4G, Samsung Galaxy Tab 7-inch, and the BlackBerry PlayBook.
The Nova will come with 4 GB of internal storage while the Planet and Star will feature 2 GB of internal storage. All three tablets will also come with a micro SDHC card slot, which users can augment storage capacity with up to a 32 GB card.
The nice part is that the tablet also supports USB on the go, or USB OTG, via the mini USB port, which can be used to charge the tablet, add a peripheral such as a USB mouse with an USB OTG adapter, or connect to a computer to synchronize.
All three tablets will be available mid-August. The Star will be the most affordable of the three with a suggested price of $159. The Nova and the Planet will both cost $89 each.
Pandigital Star: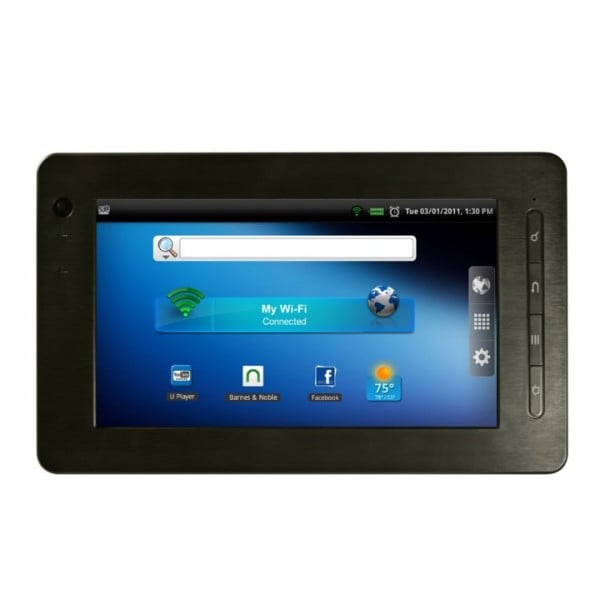 Pandigital Nova:
Pandigital Planet:

As an Amazon Associate I earn from qualifying purchases.