Pandora for iOS Now Comes with Its Very Own Alarm Clock
Pandora has updated its iOS app for the iPhone to include a new alarm clock feature that allows you to wake up to a specific Pandora station, rather than just default ringtones provided on your phone.
Sometimes you miss waking up to your favorite radio stations back when we all used traditional alarm clocks (yeah, those small black boxes that display the time in red numbers). However, we're all using our smartphones now, and if you're like most people, you probably just use the default alarm clock app that only allows you to use the default ringtones. Bleh!
However, there are third-party alarm clock apps that you can download, which allow you to play music from your library, but now the feature is built into Pandora, so it's essentially killing two birds with one stone. All you have to do is turn the alarm on and set it to your desired Pandora station (as well as set a wake up time and a snooze duration). From there, just leave the Pandora app open and your device plugged in.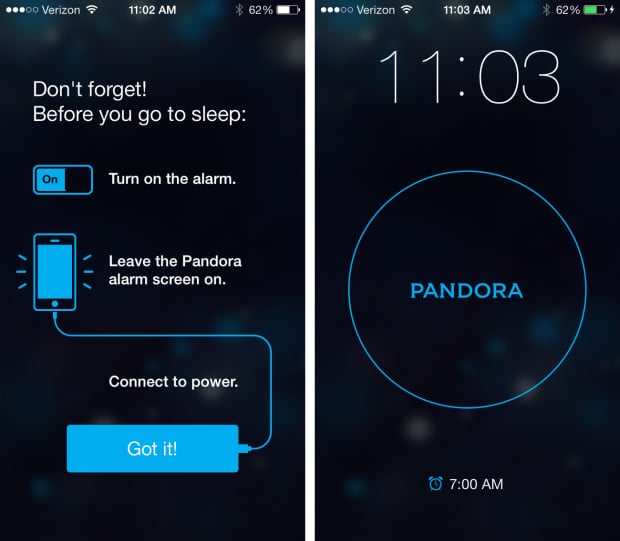 The only downside that we can see is that, yes, you'll have to leave your iPhone plugged in and the screen kept on with the Pandora app open, which isn't healthy for your phone. Keeping your phone plugged in for long periods of time can degrade the battery in the long run.
However, we don't blame you if the trade off is being able to wake up to your favorite music every morning, especially if it puts you in a good mood; no amount of battery degrading will stop someone from waking up in a good mood.
Aside from the new alarm clock feature, the Pandora app is now fully updated to support iOS 7, so you can enjoy the seamless integration with the app, as well as use the iOS 7 keyboard, rather than the older keyboard on apps that aren't yet updated for iOS 7. Hopefully other music streaming apps take notice and include alarm clock features with their respective apps, including on-demand music streaming services like Spotify or Rdio, which you could theoretically wake up to any song you wanted to.