Pantech Breakout Android Smartphone Can Tether the Most Devices to Verizon's 4G LTE Network
A leaked flyer showing the rumored Pantech Breakout Android smartphone indicates that the device may be a mid-range to high-end smartphone on Verizon Wireless's growing 4G LTE network, joining the ranks of the LG Revolution, Samsung Droid Charge, and HTC Thunderbolt. With a 1 GHz CPU, 512 MB of RAM, Android Gingerbread, front and rear cameras, the device should slot nicely with the 3 current Verizon Wireless 4G LTE Android smartphones and just below the Droid Bionic from Motorola–that device has a dual-core CPU and high resolution qHD display.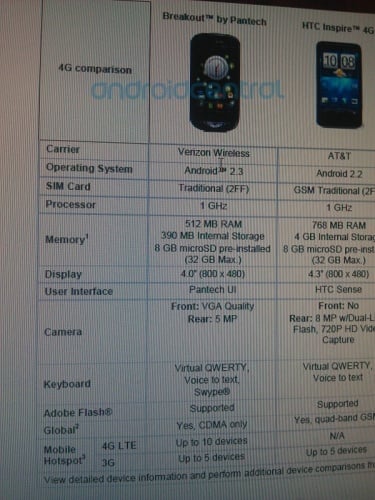 The interesting things noted on the device is that the Pantech Breakout can tether up to 10 devices onto the Verizon 4G LTE network, which is the most supported for tethering on any network. The Samsung Mobile Hotspot along with the Samsung Droid Charge can tether up to 8 while the HTC Thunderbolt supports a more standard 5 devices. Though you can tether up to ten devices, having 10 devices share the bandwidth would mean that the speeds would be shared between all devices, giving each device an overall slower network access speed than if you had fewer devices. At the end, it's nice to support more devices tethered to the same phone or mobile hotspot, but the more devices you have on that small hotspot network means that you will get slower speeds overall.
Another tidbit is that Pantech will be joining its larger rivals in bringing a custom UI to the device, which the leaked Verizon brochure is detailing as the Pantech UI. The Pantech UI will be competing with HTC Sense, MOTO BLUR, and Samsung's TouchWiz UI as a custom interface on top of what looks to be Android Gingerbread for the Breakout. It's unclear how customers will respond to the Pantech UI.
Pricing and availability are not yet known for the Breakout at this time.
Via: Android Central

As an Amazon Associate I earn from qualifying purchases.