Pantech Breakout Headed to Verizon's 4G LTE Network on September 22nd?
It's not official yet but a leaked document from Droid-Life essentially confirms both the spec list and release date of the Pantech Breakout, a phone that will likely join the Samsung Stratosphere in Verizon's budget 4G LTE lineup. I guess the HTC ThunderBolt, Samsung Droid Charge and LG Revolution belong in that group too, right? Anyway, we got our first good look at Pantech's 4G LTE smartphone at the beginning of the month and now we have the rest of the intel.
The Breakout isn't going to be offering up anything special in the spec department – it has a 1GHz single-core processor, a 4-inch screen, DLNA support, rear and front facing cameras and Android 2.3 Gingerbread – but it will likely make up for the lack of muscle in the price department.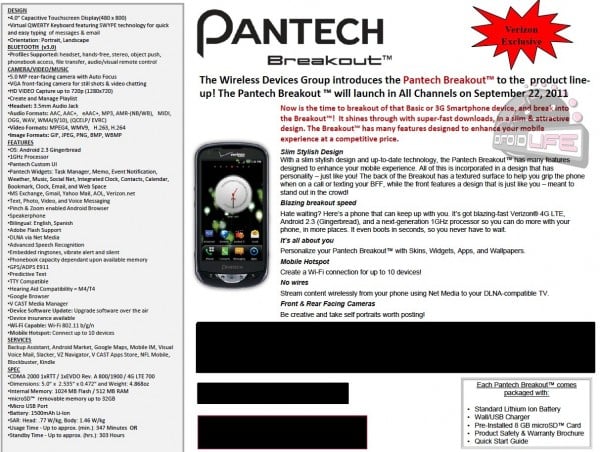 While the document states that the Breakout will launch on September 22nd, there is no mention of any sort of pricing but we expect it to be cheap considering the specification list.
What's interesting here is that this bad boy is going to launch with Gingerbread, something that Verizon's current 4G LTE lineup, besides the Droid Bionic, lacks.
Look for an official announcement soon.

As an Amazon Associate I earn from qualifying purchases.