Pantech Vega 5 Smartphone-Tablet Hybrid Makes Dell Streak 5 Owners Envious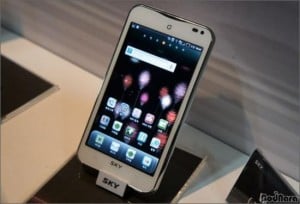 The Pantech Vega 5 tablet for the Asian market bears the same 5-inch form factor that straddles the line between large smartphone and undersized tablet beautifully, like the 5-inch Dell Streak that was released before it. Unfortunately, though, this handset may never make it to the U.S. so those who are awaiting for the Vega 5 to hit state-side should not hold their breath.
The device does offer slightly updated specs from the Dell Streak, though it will bear the same 5-inch WVGA screen resolution as the Streak. The Vega 5 will offer users a Qualcomm Snapdragon CPU that's a dual-core chip with each core clocking in at 1.5 GHz. It will have 1 GB RAM, 16 GB storage, and an 8-megapixel rear camera that can record videos in 1080p resolution. There is a front-facing camera and Gingerbread is pre-loaded, though it's unclear if it's Android 2.3.4–the version that supports Google's video chat–or an earlier version.
For those who have never laid hands on the 5-inch Dell Streak, the device is among my favorite Android devices based on its size. The display is large enough to browse the Internet and read e-books comfortably, but small enough to be portable and is certainly more pocketable than 7-inch tablets. The Dell Streak's slim profile makes it comfortable to hold and use as a phone. Best of all, as it incorporates phone functionality, users who prefer to have mobile broadband on a tablet won't have to spring for not only a separate tablet hardware, but a separate data plan for that device.
Dell is also expected to update its 5-inch Android device early next year as the Opus One, which will bear better specs and hopefully a higher resolution screen to accommodate Android 3.0 Honeycomb, according to a previously leaked roadmap.
Via: Netbook News