Parental Controls in Windows 10: How to Setup Microsoft Family
Every day we unlock our computers and get online. We send messages and check emails. We write documents and we send pictures over Facebook. Our sons, daughters, nieces and nephews see us doing all this regularly and conclude that the internet is a cool, safe place. It certainly can be a safe, but the younger members of your family need protection for when it isn't. The need to protect kids from themselves and instill good digital hygiene is why parental controls in Windows 10 exist.
Officially called Microsoft Family, parental controls in Windows 10 act as a digital police officer so that you don't have to spend all of your time checking your kid's browser history or ensuring that they're not spending money that they don't have. Microsoft Family lives on the web, where it can send you weekly reports about what your kid is doing online and allow you to create a schedule so that they have exactly as much screen time as you want them to.
Here's how to get parental controls in Windows 10 working with Microsoft Family.
Parental Controls in Windows 10: Before We Begin
To make the process of enabling parental controls in Windows 10 easier, there are some things that you'll need before you get started.
Chief among these is a Microsoft Account for your child. Microsoft Family integrates with Windows 10 through the accounts that you create for Outlook.com, Xbox and Skype. If your child already has a Microsoft Account, you'll need it to send them an invitation. If they don't, you'll need to create one for them. If your child is an Xbox gamer already, be sure to use the same account that they have on the console. You can find it in the console's user settings, or online when they log into Xbox.com.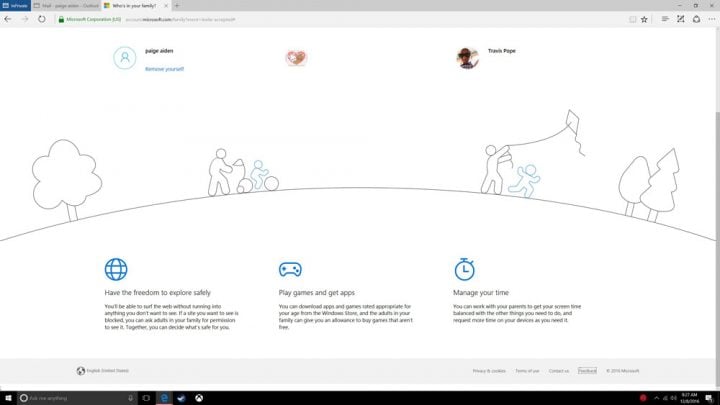 Also note that you'll need your Microsoft Account username and password to get the process started.
Second, you're going to want to have the Windows 10 PC that they normally use nearby so that you can setup their account on it after you've configured Microsoft Family. That is, unless they already are using the PC with the account you provide. If that's the case, you won't need to do anything more after adding them to Microsoft Family.
Parental Controls in Windows 10: Setting Up Microsoft Family
From your computer, open any web browser and navigate to account.Microsoft.com. Click or tap on Sign In.
Now use your Microsoft Account username and password to login into the account portal.
Welcome to the Microsoft Account portal. From here you can add new payment options to your account, track your Windows devices and redeem any rewards credits that you get for searching the web with Bing or browsing with Microsoft Edge. Click or tap on Family in the navigation bar.
Tap or click on Add a Child.
This is where you'll need to provide a Microsoft Account for your child or create one. Again, if they already have one on Xbox, Outlook or Skype, enter it here and hit Sign in my Child. If they don't have one, use the Create a new email address for my child link.
You can use the Send Invite button if you don't know your child's password, but do know what their account user name is. You'll need to make sure that you have them approve the invite. For the purposes of this example, we've sent an invite.
Have your child go to their Outlook email and Accept the invite. Here's what the invitation looks like.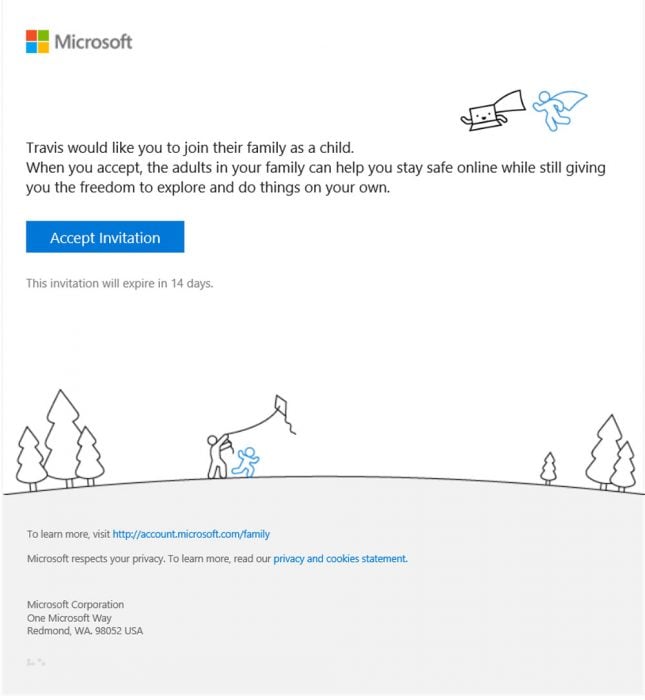 Once they accept the invitation, you'll get an email confirming their acceptance and a notification on your Windows 10 PC that looks like the one below.
From this point on, their account is completely linked to yours. From the Accounts.Microsoft.com/Family you can monitor everything that they do on their PC. You can even set up a schedule to monitor their screen time. Be sure to configure weekly emails about their activity incase you simply don't have the time to keep checking up on them from the site itself. If they should attempt to remove themselves from your Microsoft Family, you'll get a notification on your PC.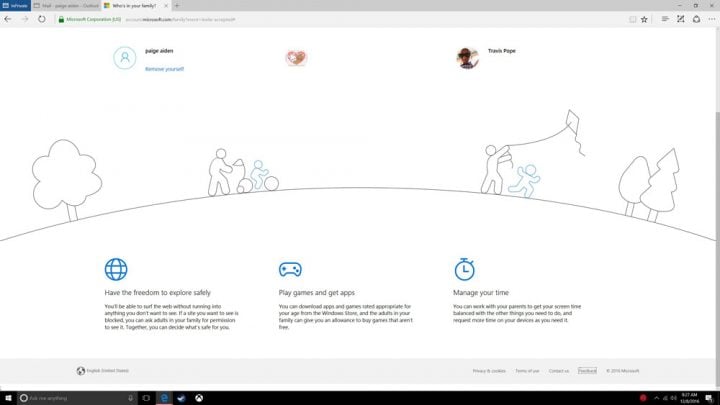 Parental Controls in Windows 10: Adding the Microsoft Account to Your PC
The last thing you need to do is add the Microsoft Account that you linked to Microsoft Family to the family PC or your child's PC.
If you used a Microsoft Account they already had, then you get to skip this step.
Go to the Settings app on their PC you need to add the account on and tap and click on Accounts. Now tap or click on Family and Other People. From here you can add that Microsoft Account.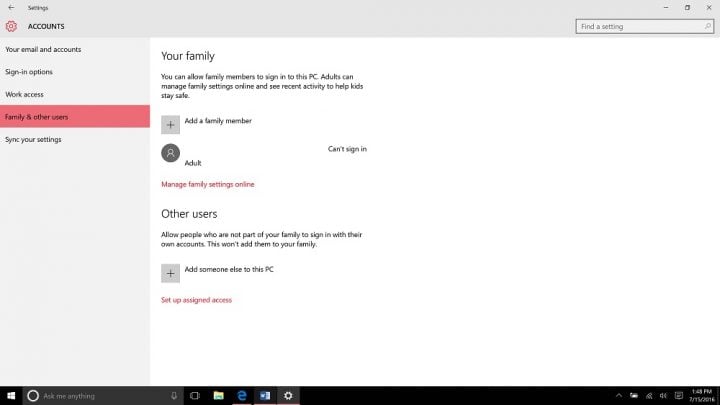 Read: How to Add an Account to Windows 10
Good luck with Microsoft Family. It really should help you keep a handle on what your kids are doing online and how much time they're spending in front of a PC. Microsoft Family works on mobile phones too, but only those running Microsoft's Windows 10 Mobile operating system.