Passwords in Windows 10: Edge, Password Mangers & More
No one likes passwords, but everyone has to deal with them. Passwords aren't so much a bad thing as they are problematic for even advanced users. Every service has a password that you have to be sure to remember. You can't make that password too simple or you risk compromising your account. At the same time, it can't be so complicated that you always end up doing a password reset before you can log in. Passwords in Windows 10 are easier to manage than they have been in the past.
Some of that ease comes from changes that Microsoft made itself. Every user is encouraged to link a Microsoft Account to their PC. When they do, that same password from Outlook, Xbox and more applies to their PC. Windows Hello, a hardware dependent feature for notebooks, desktops and tablets, allows users to log in and make purchases without using their password at all – provided they do some setup. Passwords in Windows 10 are also easier to manage thanks to apps and services available directly from the Windows Store. These apps can generate complicated passwords for you and make them available on all of your devices.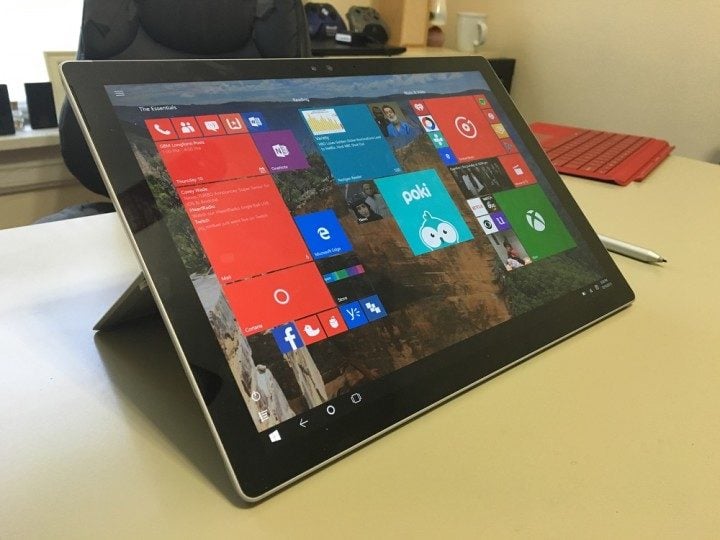 Here's everything that you need to know about managing passwords in Windows 10, from saving and syncing them with Microsoft Edge to download apps that'll let you store them safely.
Passwords in Windows 10: Microsoft Edge & Windows Hello
For Windows 10, Microsoft dropped support for a ton of different features that it thought Windows 8 users didn't like. That included a version of Internet Explorer built specifically for touch. Instead, it created Microsoft Edge, an all-new browser built from the ground up with modern users in mind. Microsoft Edge doesn't sync tabs yet, but it does sync passwords. In the app's control panel, you can tell it to store credentials that you frequently use.
Once saved within Edge, these passwords will surface on any PC that's been authorized with your Microsoft Account. In fact, the user name will too. This syncing works on Windows phones, notebooks, desktops and tablets, but doesn't work on Xbox One for whatever reason. Every time you enter a new password, Edge will ask you if you want to save it.
With Edge, you can come up with a complicated password, then never have to remember it again – provided you always use Edge going forward.
Windows Hello is also new for Windows 10. Most people know of it because the system allows you to login to your PC without using a password. What some people don't realize is that Windows Hello keeps you from having to type your password into Windows for other activities too, like buying something from the Windows Store. Eventually, Windows Hello Passport will let users login with websites, but that hasn't materialized yet. Right now, it works for some apps in the Windows Store.
Read: Windows Hello: How to Login to Windows 10 With Your Finger
Of course, Windows Hello is hardware dependent. To use it, you need a fingerprint reader or compatible camera built-in or plugged into your notebook, desktop or tablet. Most new PCs have some kind of Windows Hello ready sensor built-in.
Passwords in Windows 10: Password Management Apps
Getting away from Microsoft's built-in solutions for passwords, there are password management apps and programs. These alternatives lurk both inside and outside the Windows Store. Some of them have a cover charge for just the app. Others connect to a web service.
Syncing and added security are what makes a good solution for managing passwords in Windows 10. You're going to need your passwords away from your computer at some point, which means whatever app or service you choose will need to have an iPhone or Android version.
LastPass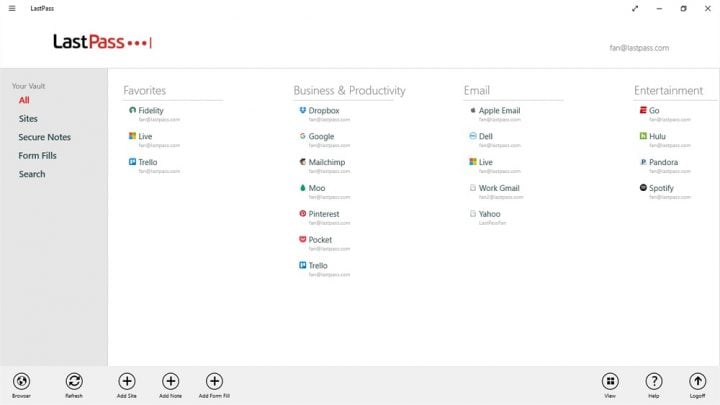 The most popular password management service seems to be LastPass. There are apps for Android, iPhone and one in the Windows Store so that you always have access to your credentials when you need them. A browser extension for Microsoft Edge, Chrome and more automatically enters your passwords for you when they're needed. Your credentials are available through the LastPass website too.
LastPass recently went completely free, though premium still exists for $1 a month. It unlocks password sharing with family members.
[ Download the LastPass Apps from the Windows Store ]
Enpass
Enpass doesn't have a cloud subscription service backing it. What it does have is one $9.99 fee after you reach 20 passwords and a massive array of apps. Users choose whether they want the passwords that are on their device to stay there or sync across platforms. You get to choose how the syncing happens, with OneDrive, Dropbox, Google Drive and iCloud options. There are browser extensions, a MacOS, Windows Store, Android, iPhone and a portable version that you can install on a flash drive and keep with you.
Whenever possible, Enpass integrates with a platform's security hardware to make the process of logging in easier. For example, the Windows Store version of Enpass lets you assign a PIN Code to it or login with Windows Hello. The iPhone and iPad versions support the TouchID fingerprint reader.
[ Download Enpass from the Windows Store ]
1Password
There's another widely used password management utility named 1Password that you won't find available in the Windows Store. It is available online though. 1Password costs users $2.99 a month for a single plan. There's syncing, plus apps for iOS and Android.
What's really interesting about 1Password is its ability to connect directly with apps on iPhone and Android. You don't have to copy and paste your passwords on those devices, you simply tap on the 1Password icon built directly into them.
Unfortunately, there's no extension for Microsoft Edge with 1Password, but you do get top-notch apps on every other web browser.
Good luck managing your passwords in Windows 10.

As an Amazon Associate I earn from qualifying purchases.