PayPal for Android Updated with Mobile Check Cashing
For those of you who own an Android device and frequently find yourselves using PayPal's app will be delighted to know that the company has released an updated version of its Android application that brings along two welcomed upgrades.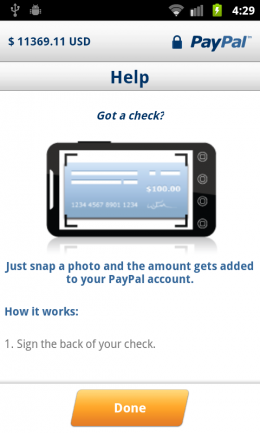 PayPal's update brings along two major features. The first, you are now able to add the money from checks to your account using the camera on your phone.  The company calls it Mobile Check Capture and PayPal's app on the iPhone has had it since October of 2010 so it's nice to see it finally hit Android.
The second big part of this update is the ability to move the application to your SD card. If you're running an Android device with Android 2.2+ or higher, you are now able to move the software to the other storage spot on your phone.
Another new feature allows you to use the 'local' function to find businesses around you that take PayPal as payment. Very handy if you find yourself using your PayPal account on a frequent basis.
For those of you who already have PayPal, you'll be prompted with an update for it on your device. For those of you that want to join the party, you can find PayPal's Android application on the Marketplace if you head right here.

As an Amazon Associate I earn from qualifying purchases.