Pebble iPhone Syncing Smart Watch Raises $3 Million, Adds Features
The Pebble E-Paper watch, the first smart watch with real iPhone syncing and apps, just topped $3 million in funding on Kickstarter with 30 days to go.
When we fist told readers about the Pebble smart watch funding topped $100,000, and in less than a week the project raised over $3 million dollars and banked over 25,000 Pebble watch pre-orders.
The fact that the Pebble smart watch is selling at near iPhone speeds confirms the pent-up demand for wearable technology that syncs with the iPhone.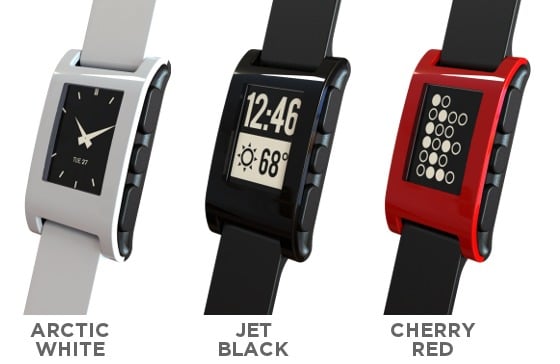 I've used the WIMM One developer watch for the past few months and loving the connectivity it delivers when paired with an Android smartphone, but it doesn't offer the same connectivity with the iPhone.
The Pebble E-Paper watch pairs with iPhone or Android to deliver notifications, standalone apps and companion apps. Sadly the iPhone cannot push text notifications to the watch thanks to Apple's limitations.
Watch a sampling of the watchfaces and apps in the Pebble demo video below.
More Money, More Features
Thanks to the increased funding the Pebble smart watch will be waterproof enough to handle swimming, though the creators caution it is not a dive watch. The Pebble team made the waterproof announcement before the project hit $2 million, so backers are hoping for extra functionality now that the Pebble has raised $3 million.
One of the most requested features is Bluetooth 4.0, a new version of Bluetooth that offers dramatically better battery life without sacrificing range and connectivity. The new iPad has Bluetooth 4.0, and the iPhone 5 will certainly ship with the enhanced connectivity.
The Pebble already claims 7 days of use on a single charge, but with Bluetooth 4.0 users might see weeks of use.
I'm hopeful that the creators offer a challenge on Kickstarter, to include Bluetooth 4.0 if funding reaches $3.5 or $4 million dollars.
Have you ordered a Pebble? What features would you like to see added if the watch hits further fundraising milestones.

This article may contain affiliate links. Click here for more details.