PES 2016 Demo Release Arrives to Take on FIFA 16
The biggest competitor to FIFA 16 is coming hard this year with a very early PES 2016 demo release on Xbox One and PS4. PES 2016, or Pro Evolution Soccer 2016, is a rival to the better known in the U.S. FIFA 16 and the company is ready to tackle the competition this year.
The PES 2016 demo download is available now on PS4 and Xbox One as a free digital download. There is no confirmation of a FIFA 16 demo yet, but it is something EA typically offers about two weeks before the FIFA release date.
Konami's PES 2016 demo arrives almost a month before the PES 2016 release date set for September 15 in the U.S. and September 18 in other countries.
Gamers can download the PES 2016 demo now on the PS4 and Xbox One free, without the need to join any early access programs like EA currently offers for Madden 16.
In the PES 2016 demo gamers can choose to play a 7-minute or 10-minute match with a small selection of teams. Choose from AS Roma, Bayern Munich, Juventus, Corinthians, Palmeiras and national teams for Brazil and France. There are options for weather and difficulty.
You can start the PES 2106 demo download on your console, though at this time it is only available in Australia and New Zealand. We expect the full release will bring the U.S. PES 2016 demo download to PS4 and Xbox One shortly. The PES 2016 demo download size is 3.3GB, which should go fast for most users.
There is no mention of a PS3 or Xbox 360 PES 2016 demo download in the works. The game is coming to older consoles, but a demo looks limited to the current generation of gaming systems.
Some of the new PES 2016  features include;
Dynamic Weather – weather can change during a match and influence play.
Goalkeeper ID – Personality to each keeper with new parameters for actions.
Revamped Master League – Complete overhaul with a new player transfer system.
Dynamic Wide Angle Camera  – Camera will zoom and tilt based on the position of the ball.
Celebration Control – Complete control of the celebration after a goal.
Image Importing on PS4 and PS3 – Import images of players for realistic looking teams and kit.
The PES franchise is not as well-known and supported in the U.S. as FIFA 16, but this offers a great chance for players to see how PES 2016 compares to FIFA, well ahead of the release dates for both games.
You can pre-order PES 2016 from Amazon and other retailers for $59.99 on Xbox One, PS4, PS3 and Xbox 360. There is a digital pre-order on PSN, but not on Xbox One or Xbox 360.
FIFA 16 Release: 9 Important Details
FIFA 16 Release Date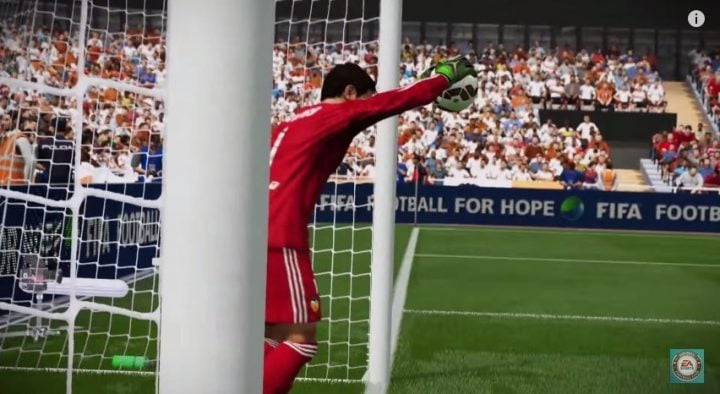 The FIFA 16 release date arrives September 22nd in the U.S. and a few days later on September 25th in the UK, Ireland and other countries. This short delay is common when for FIFA 16 games even though soccer commands more attention in other countries.
Once you get past these two FIFA 16 release dates there are no more coming, so the wait is minimal.
Gamers can buy FIFA 16 on disc or digital and with the digital version there will be an opportunity to download the game early to start playing as soon as 12:01 AM Eastern rolls around. In addition to PSN and Xbox Live, FIFA 16 is on sale on Origin.
We may see disc and digital sales officially start at 12:01 AM Eastern no matter the location, which could allow gamers on the west coast to start playing at 9:01PM on Monday September 21st.

As an Amazon Associate I earn from qualifying purchases.