Philips Hue Bulbs & Lights: What You Need to Know Before You Buy 
It wasn't that long ago that technology insiders predicted things we wouldn't expect might one day be connected to the internet in some way. Intelligent technology hasn't managed to completely invade our homes yet, but the prophecy is already starting to come true. Currently, the most successful of the so-called Internet of Things army to catch on isn't an appliance at all. Many would argue that at the center of any smart home transformation are Philips Hue Bulbs.
Philips Hue is a brand of smart bulbs that communicate with a base station. Using Philips Hue, you can configure the lighting in your home to turn itself on and off when you're near. On a very basic level, you can control the lights in your home with nothing more than your smartphone, from anywhere in the world.
Launched in 2012, Philips Hue has become synonymous with smart lighting and smart homes in general. For a relatively low price, almost anyone can use them to add intelligent lighting to their home. Philips Hue were one of 2016's hottest selling items. For weeks, they've been incredibly hard to find. A lot of people are buying Hue, but not before they fully understand what they are and how they work. That's a mistake. Smart devices are great to have, but also demanding.
There are details you need to know about Philips Hue Bulbs before you spend your own cash on them.
What's Required for a Philips Hue Setup?
The first thing that lots of people tend to misunderstand about Hue is that it is a system, not something that you can use on its own and expect full functionality.
A regular light bulb sits in your lamp or lighting fixture. When you flip its switch, you complete a circuit and electric current gets supplied to the fixture that holds the bulb. Hue bulbs can work like this in their default state, but you won't be able to control how bright they get or what color light they output.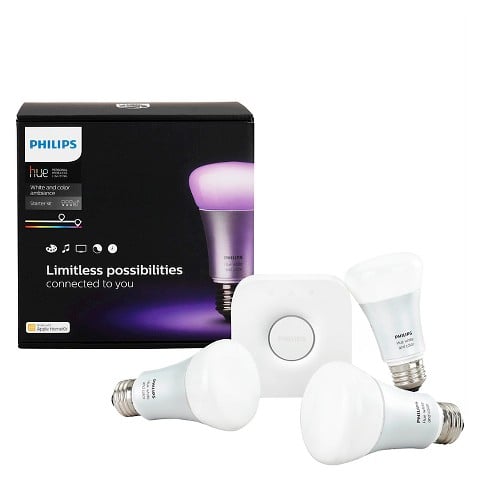 You need the Philips Hue Bridge. The Hue Bridge connects to your router. It's the bridge that relays the Hue Bulbs information about their color temperature and settings. It's the bridge that keeps the bulbs updated and synced together. If you're considering buying Hue, you need the bridge, that's the bad news.
The good news is that Philips has Hue Starter Packs that come with a bridge. The cheapest of these is the $69.99 White Starter Pack. It has two white light bulbs that can be brightened or dimmed. There's also a $199.99 Starter Pack that comes with a Hue Hub and three colored bulbs. Amazon and some other retailers sell Hue Bridges on their own for $59.99.
[ See the Hue White A19 Starter Kit at Amazon ] [ See the Hue White and Color A19 Starter Kit at Amazon ]
The Differences in Hue Hubs & Bulbs
Every Hue Bulb, regardless of generation, works with the previous generation. For example, you can have a third generation bulb paired to a first generation Hue Hub. You don't have to worry about maintain backwards compatibility between your lights.
That being said, there are some obvious reasons to go with a second generation Hue Hub over the first generation. The second supports to things that you might be interested in: Apple's HomeKit software and Amazon Alexa integration. Both of those let you control lighting with your voice.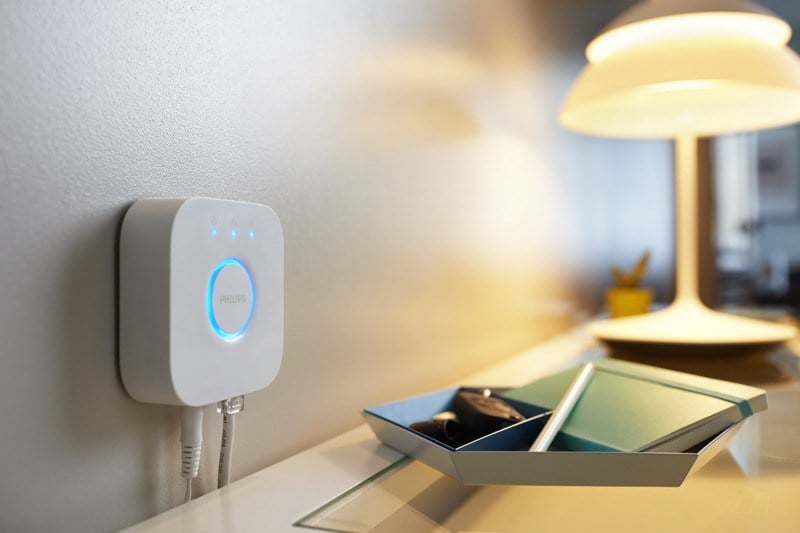 You can find the first generation Hue Hub for cheaper than a second generation, but always go with the second generation. The key to any successful smart home setup is having flexibility for changes that you might make in the future.
The differences in bulbs is important too. All of them are compatible with each other, but later generation Hue Bulbs offer brighter colors and more accurate color reproduction. The second and third generation bulbs' biggest departure from the original Hue Bulbs is brightness. They get about 200 Lumens brighter than their older counterparts.
Differences in the Three Generations of Philips Hue
Lighting fixtures come in all different shapes and sizes. Rather than force everyone to only have lamps if they wanted to use Hue, Philips offers different Hue Bulbs made for recessed lighting and more. Lumens is the measurement of light emitted from a bulb. The more Lumens a bulb outputs, the brighter it is.
The Philips Hue A19 is the bulb that you'll want for lamps and lighting fixtures. It's capable 16 million colors and outputting 800 lumens of light.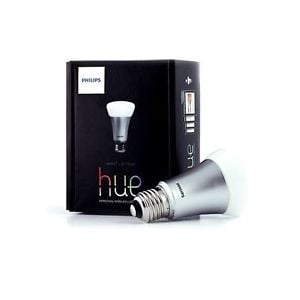 [ See the Philips Hue A19 at Amazon ]
The Philips Hue BR30 can only output  630 lumens of light, but is also capable of showing 16 million colors. It's also designed for screw-in lighting fixtures.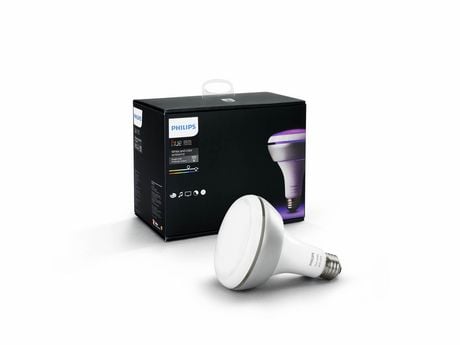 [ See the Philips Hue BR30 at Amazon ]
Philips Hue GU10 is capable of 16 million colors, but can only output 300 lumens of light. It's designed specifically for fixtures that don't offer screw-in connectivity.
[ See the Philips Hue GU10 at Amazon ]
Finally, there's the Philips Hue PAR16. It too is only capable of 300 lumens, but keeps the color options intact. It's designed for recessed lighting and lamps that have screw-in connectivity but require bulbs with a low top profile.
[ See the Philips HUE PAR16 at Amazon ]
Hue White A19's don't offer any color at all. They have a maximum brightness of 800 lumens, but they primarily exist as a way to add dimming to your lighting setup. After all, there may be rooms where you don't need a fixture to be capable of changing colors.
What Works with Philips Hue?
Philips Hue Bulbs use a wireless standard called Zigbee to communicate with their base. Because of this, companies are able to create bulbs that work with a Hue Bridge, but aren't as expensive as what Philips offers themselves. Be prepared when looking into these bulbs. Things can get confusing.
There are bulbs that use the same Zigbee standard as Hue, but won't pair to a Hue Hub at all. Cree smart bulbs will pair with the Hue Hub, but some advanced features won't work. For example, Cree's bulbs can't be seen by Amazon's Alexa personal assistant. Read reviews of any third-party bulbs before you buy them for your Hue setup.
To help users easily sort through what's compatible with Hue and what is not, Philips devised the Friends of Hue program. If a device is a member of the Friends with Hue program, they're guaranteed to work with your Hue lighting system seamlessly. The program includes lamps, thermostats, remotes, iPhones, and Amazon Echo speaker systems.
How to Control Philips Hue
As for controlling your Philips Hue lights, you can use the smartphone in your pocket already. Philips offers both iPhone and Android apps. In addition to those experiences, developers are free to make their own Hue apps. That's how Windows and Windows Phone users get access to Hue. The easiest and cheapest way to control Hue is through your phone, but there are also Hue Dimmers, Hue Tap Switch and a Hue Motion Sensor that lets you skip the smartphone app after setup.
Read: Smart Home Compatibility Chart – Getting Started
Those are the basics to getting started with Philips Hue, but know that this is deep topic that's quickly evolving and changing. Good luck picking out your new Philips Hue Bulbs, if you do decide to buy.

As an Amazon Associate I earn from qualifying purchases.