Philips Hue Tips & Tricks
Philips Hue allows you to control your lights wirelessly from your smartphone from anywhere in the world, but here are some Philips Hue tips and tricks to take your Hue game to the next level.
There are a ton of smart home products available on the market, and smart lighting is a category that's gaining popularity. It's also one of easiest smart home products to install, as all it takes is screwing in light bulbs and plugging in a hub.
Read: Philips Hue Review
Philips Hue is arguably the most popular smart lighting solution. There are a few other big players in the game, like Belkin WeMo, Cree, Osram, and GE, but Philips Hue seems to be the most popular option for those looking to buy smart connected bulbs.
If you have Philips Hue lights yourself, you likely know the basics and can do the simple stuff, like turning them on and off from your phone and changing the colors on the color-changing bulbs, but there's a lot more you can do with these lights than you may have thought possible.
Read: The Best Smart Home Products
Here are some Philips Hue tips and tricks that you should check out to take your Philips Hue lights to the next level.
Create Presets
One of the biggest features of Philips Hue bulbs is the ability to create "scenes," or presets that allow you to tap one button and have certain lights light up a certain way.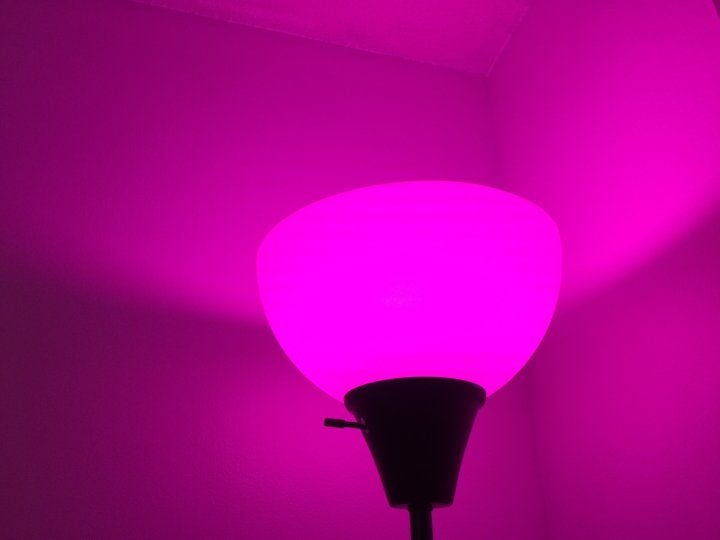 For example, you could have scene where you have your lights dim down when it gets closer to bed time, or have them change a certain color.
To create a scene, simply view the list of lights in the Philips Hue app and then tap on Create in the top-right corner.
Group Bulbs Together
In the Philips Hue app, you can group certain lights together and control them all at once instead of individually.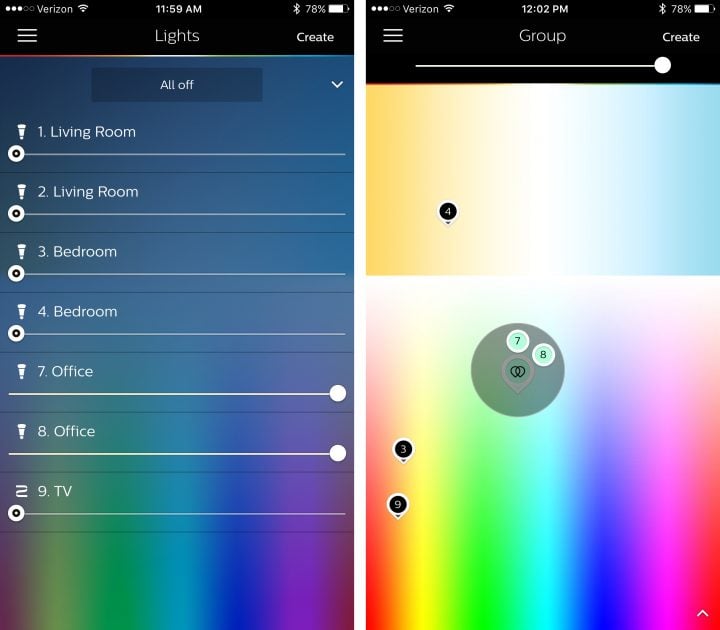 In the color selector, you can drag and drop light bulbs into groups and then move them around as one unit, as well as dim or brighten the bulbs at the same time.
However, it's a bit cumbersome to do this in the Philips Hue app and there are other apps available that do a better job of this, which brings us to the next tip.
Use Third-Party Apps
While Philips Hue lights are top notch, the app itself isn't quite up at that level. The Philips Hue app is fine for setting up your bulbs during the initial setup process, but I recommend using third-party apps to manage and control your Hue lights.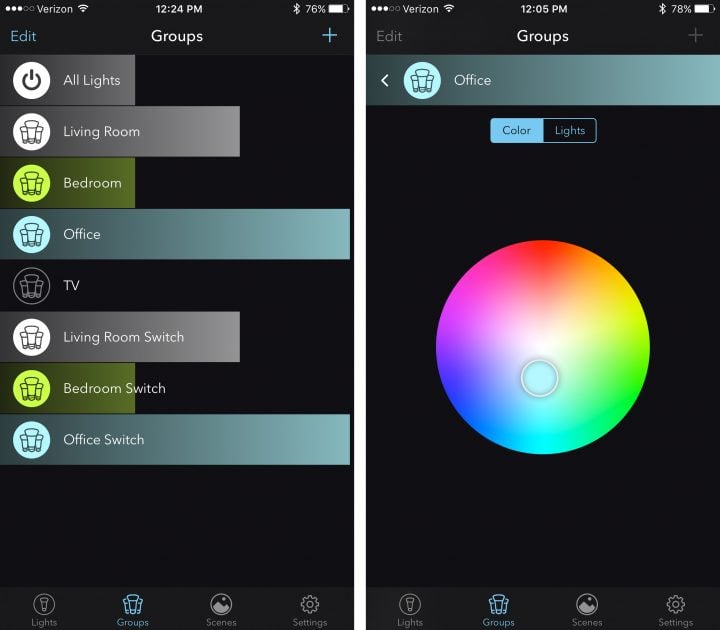 One of my favorite apps is Huemote, which provides a dead-simple user interface that's easy to use. iConnectHue is also another good app, although it takes a bit of a learning curve and costs $4.99 in the app store.
Automatically Turn On Lights When You Get Home
If you want your Philips Hue lights to act automatically, you can set up geofencing on your smartphone so that your lights turn on when you get home, without any interaction on your part.
You can do this in the Philips Hue app under the Geofencing section and it's really easy to set up. However, if you want more control over the specific geofence barrier, IFTTT is perhaps the best alternative to use, which allows you to set up exactly where the location cutoff is.
You can also set this up to turn off your lights automatically whenever you leave the house.
Use IFTTT
As a segue from the previous tip, a great way to enhance the functionality of your Philips Hue lights is by using IFTTT.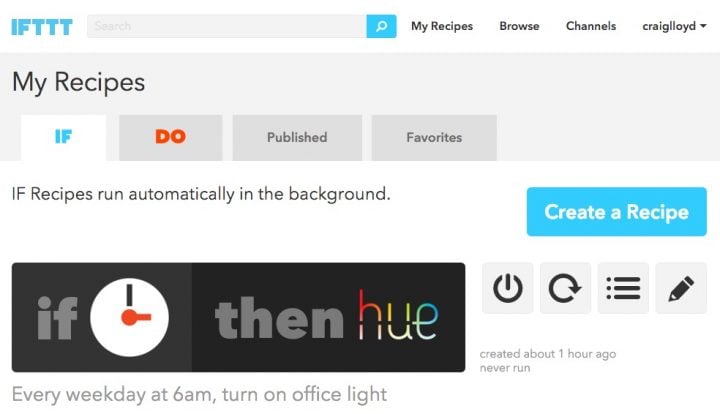 IFTTT is an online service that allows you to connect different services and products together, including Philips Hue lights.
We've rounded up some of the best IFTTT Philips Hue recipes that you can try out, and you'll quickly notice that there's a lot you can do with your Hue lights.
Save Money When You Buy Hue Lights
Philips Hue lights can be expensive. The starter kit alone is $200 and it only comes with three bulbs. However, if you shop smart, you can save money on Philips Hue lights.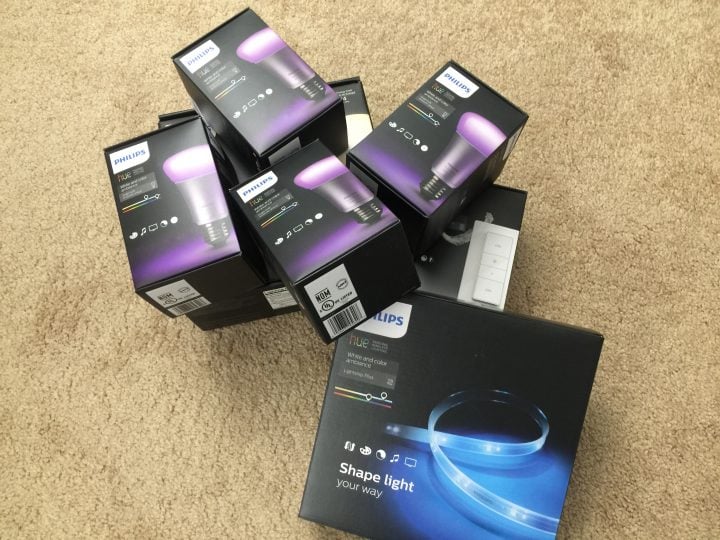 For example, Philips makes a Hue White starter kit for $79 that comes with a Hue Bridge and two Hue White bulbs. You can also get additional Hue White bulbs for just $15 a piece, compared to the color bulbs that are $60 each.
You can even get Hue White bulbs for even cheaper by buying the Dimmer Switch Kit, which is $35 and comes with a Hue White bulb. Since a Dimmer Switch is normally $25, the included bulb is only $10.
Get Physical Switches for Easier Control
Speaking of dimmer switches, Philips offers physical switches that you can use to control your Hue lights.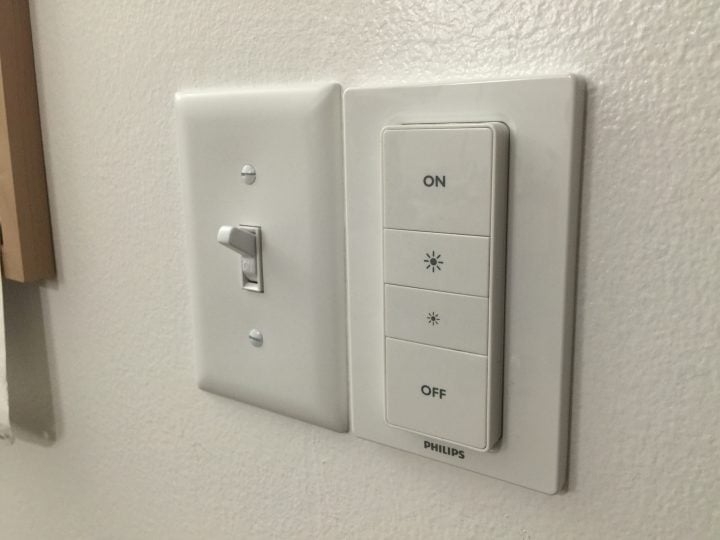 Controlling your lights from your smartphone can be nice, but sometimes you just want to quickly flip on the lights without busting out your phone. This is where Philips' Dimmer Switch can come in handy. It allows you to turn on and off the lights, as well as dim or brighten them.
There's also the Tap, which is a switch that has three buttons that you can program to different scenes, allowing you to quickly change scenes with just the press of a button instead of using your phone.
Set Up Alarms
Do you normally wake up before the sun comes up? You can use Philips Hue lights as an alarm and simulate the sunrise.
The official Philips Hue app has a section for alarms that allows you to turn on your Philips Hue lights at a certain time and even slowly fade the lights on.
You can also use this feature just to turn on your lights at a certain time during the day, even if it isn't in the morning.
Set Up Timers
In the same section where you can set an alarm, you can also set a timer, which allows you to turn on or off your Philips Hue lights after a certain amount of time has elapsed.
You can use this feature in a number of different scenarios, like at night when you fall asleep and you don't want your lights staying on all night, or if you'll be home in about an hour, you can set a timer for your lights to turn on in an hour.
Of course, alarms can do something similar to that, but setting a timer can be great for certain instances.
Use Third-Party Bulbs with Hue
While Philips blocked third-party bulbs at first, it pulled a 180 and its system still supports using third-party bulbs.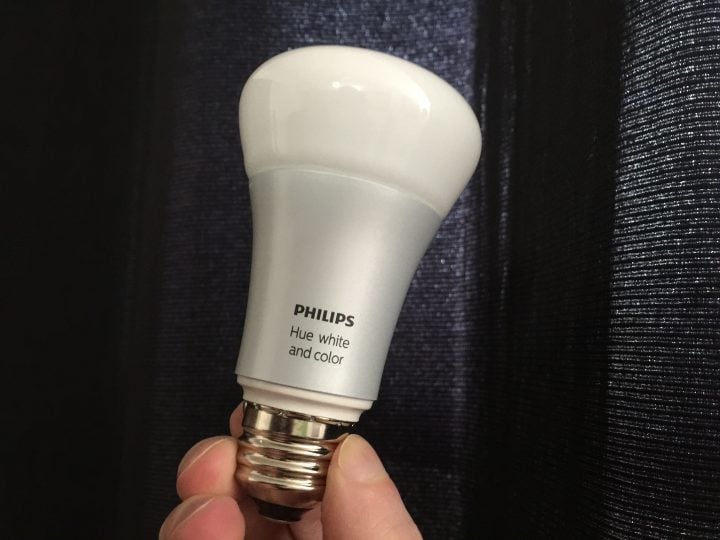 However, the compatibility is different from bulb to bulb, but a Reddit user made a chart that shows which bulbs work with the Philips Hue Bridge.
Some bulbs work just fine while others need a bit of work in order to get them to work, but it's a great way to save money on bulbs or use bulbs that you already have without needing to buy Hue bulbs.

As an Amazon Associate I earn from qualifying purchases.