Philips Releases GoGear Android 'Touch' PMP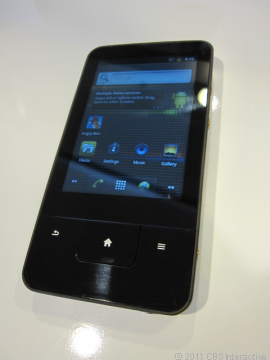 Philips is launching its GoGear music player as a direct competitor to the market-leading Apple iPod Touch, except that the GoGear runs the Android OS instead of Apple's iOS software. The GoGear will run Google's current latest Android 2.3 Gingerbread OS for smartphones, except the GoGear will eschew the phone and mobile broadband wireless radio for WiFi connectivity instead. The device will come with the suite of Google apps, including Gmail and Android Market.
The GoGear is expected to be released in September for $180 for an 8 GB model with a 3.2-inch capacitive touchscreen display. The device will also be competing against the Samsung-made Galaxy Player, which also runs on the Android platform.
According to CNET, which had received a demo unit of the Philips GoGear music player, the device has some stand-out features, including speakers that are mounted on the top as well as sound isolating earphones that support the company's FullSound audio enhancements. Aesthetically, however, the display appears to be small while the buttons appear to take up more room on the front fascia. The rival Galaxy Player, for example, comes in 4- or 5-inch display sizes.