Pixel C Android Tablet: 5 Things You Need to Know
Earlier today Google announced two new Nexus smartphones, but in a surprise turn of events they also unveiled a brand new Android tablet called the Pixel C. Previously the Pixel name was reserved for the companies high-end Pixel Chromebook laptop, but now a beautiful all aluminum premium Android tablet is coming soon, and below we'll be going over all the important details.
This is actually the first tablet released completely by Google, rather than being made by HTC or Samsung like other Android tablets in the Nexus lineup. This is a great way for Google to make its own tablets, and expand the Pixel brand to more products as they move forward.
We knew everything about Google's new Nexus smartphones before they were announced, but the Pixel C was kept almost completely a secret. This morning though, Google fully unveiled this impressive 10.2-inch powerhouse Android tablet with a nifty keyboard, aimed at taking on the Surface Pro, iPad Pro, and much more. Read on for all the details.
The new Pixel C tablet will be a typical Android tablet running the latest Android 6.0 Marshmallow, but it has a lot of unique features, a beautiful design, and some tricks up its sleeve to make it a lot more than just another Android tablet. For one, it's all aluminum and has a magnetically attached and inductive charging bluetooth keyboard, and a few other noteworthy features we'll mention below.
The Tablet
As far as the tablet is concerned, the Google Pixel C is a 10.2-inch tablet running pure Android, and loaded with some of the most impressive specs and hardware we've seen in any Android device. It's extremely powerful, very capable, and looks beautiful.
The Pixel C tablet has the same premium all aluminum design as the Chromebook Pixel, and the same multi-colored lightbar on back too. And it serves a purpose, double tap it, and you'll see the remaining battery life. A pretty neat little feature. That said, here are the full specs.
Pixel C Tablet Specs
10.2-inch 2560 x 1800 Quad-HD (308 ppi) display
64 bit Quad-Core NVIDIA Tegra X1 Processor with 3GB of RAM
32 or 64GB of internal storage
USB Type-C Port for charging, display port output, HDMI out and more
Magnetic Bluetooth Keyboard (with tons of awesome features)
Dual Speakers on each side of tablet
more
Google didn't get into battery life or size, cameras, if it has any, or some of the other fine details, but did show off this impressive tablet on stage and announced the price and general availability.
Magnetic Bluetooth Keyboard
The Pixel C tablet will come with an optional aluminum and extremely thin and lightweight Bluetooth keyboard. This attaches to the tablet magnetically, and knows when its attached for use, and turns the tablet more into a laptop, without a popup keyboard and other traditional features.
It connects via Bluetooth and has a battery big enough to last over a month. One of the best features though, is the smart magnets that let it attach to the tablet. It's smart enough to know when it's attached for use, when it's neatly tucked away on bottom, and has inductive charging. This means the tablet itself will actually slowly recharge the keyboard when not in use. Google claims it will never need to be recharged, but if you forget to attach it, the keyboard should still last up to 30 days without a recharge. It's really neat.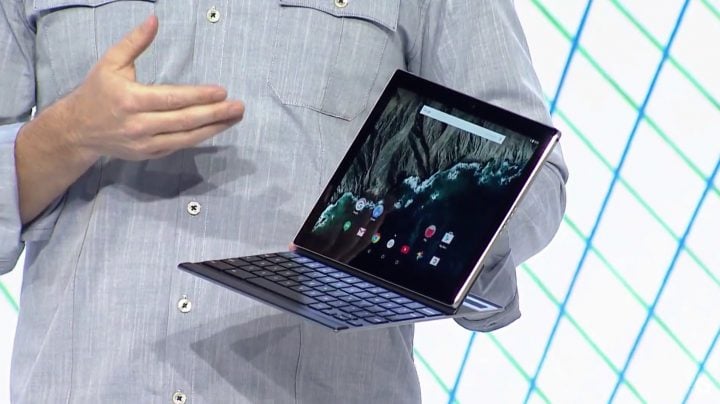 Shown off on stage the magnets are extremely strong, and it features some sort of stand feature, where users can slide the tablet off, angle and attach it, and it just stays. Then the Pixel C has multiple viewing angles for work or play, while being used with the keyboard and stand.
Google also showed the user holding it upside down, whipping it around, and general movement that would worry most, but the magnet held strong. This is one durable design, that will work excellent once it arrives this holiday season.
Pixel C Pricing
Google confirmed that this will be a tablet first, but is aimed at pro users that want to enjoy the keyboard too and are always on the go. Likely aimed at Surface Pro and iPad Pro users, although no stylus was mentioned.
So how much is this impressive powerhouse all aluminum Android 6.0 Marshmallow tablet? It will be $499 for the 32GB model, and $599 for the 64GB version. It's expensive, but it's one powerful tablet with a beautiful design, hand-crafted, designed and made entirely by Google.
Then the optional but recommended extremely thin and lightweight aluminum keyboard is an additional $150, for those interested.
Android 6.0 Marshmallow
Google didn't get into too many details, but this new tablet will of course run the latest Android 6.0 Marshmallow release, not Chrome OS. It has everything that's new with Android M, along with Google's extensive array of Google Doc apps, and likely some additional features geared exclusively for the Pixel C, and the optional keyboard.
Release Date
There was no new Nexus 7 or Nexus 9 this year, which had many Android tablet buyers upset, but this will fix the problem. However, we're not sure when it will arrive.
Google confirmed the $499 price point, and mentioned it will be released later this year in time for holiday shopping. That means we're likely looking at a very late November release date, or early December just in time for Christmas shopping. This looks to be the perfect Android tablet X-mas gift, or a worthy replacement for the Galaxy Tab Pro or Galaxy Tab S.

As an Amazon Associate I earn from qualifying purchases.