Google Pixelbook Go: 5 Things to Know
Google is finally making a premium Chrome OS laptop again, and this time it's not super expensive. At its October 2019 hardware event Google announced the all-new Pixelbook Go, and here's everything you need to know.
Coming with a beautiful 13.3-inch display and being barely two pounds and only 13 mm thin, this looks like an excellent laptop for just about everyone. Especially considering the new $649 starting price. That price should catch your attention and here's when you can get yours.
Pixelbook Go Release Details
Weighs only 2 lbs thanks to a Magnesium frame
Comes in four powerful storage configurations
October 28th Release Date
Now that you know a few of the basics, here's what to expect, Pixelbook Go configurations, pricing, and more for potential buyers.
What is the Pixelbook Go?
The Pixelbook Go is Google's answer to the Microsoft Surface or something like an iPad Air Pro or Macbook Air. It's a thin, lightweight, fast and powerful laptop that runs Chrome OS. These laptops run a sleek software that's always ready, always up-to-date, secure, and they run Android apps. Yes. Everything you can download on your phone works on the Pixelbook, making them the most versatile laptops on the market.
As Google puts it, "The Pixelbook Go starts up in seconds and stays fast with automatic updates, so you can count on speedy performance over time. And with built-in security on Chrome OS, Pixelbook Go is both fast and secure. You also have access to all kinds of apps, whether you want to express your creativity, get stuff done or just kick back to watch your favorite show."
The original Pixelbook from 2017 was excellent, but with a huge price tag, most people didn't buy one. Especially considering Samsung, Acer and ASUS have excellent Chromebooks between $200-$400 that offer excellent experiences. Still, Google's own Pixelbook is the best of the best, and now it's better, thinner, lighter, faster, and more affordable.
We love the new design, too, by the way. Google is using a lightweight magnesium frame to keep the overall weight down while keeping these laptops super strong.
Pixelbook Go Colors & Design
Google set out to make a laptop that's small, thin, lightweight, powerful and portable. It's everything people enjoyed about the original Pixelbook, just in a more portable and affordable package. The Go has a 13.3-inch Full HD display, but thanks to tiny bezels around the sides it feels like a small 11-inch laptop. It's not very big.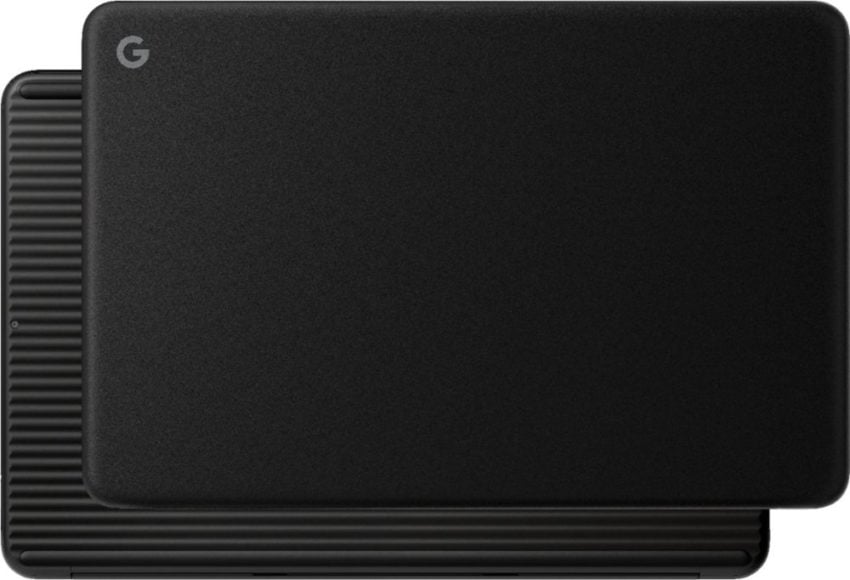 However, they still managed to pack in a capable and quiet keyboard with "hush keys" that way you're not the loud one in the office or coffee shop. We also really like the new rippled texture on the bottom, making the laptop slip-resistant, comfortable to hold, and easy to carry.
The Pixelbook Go comes in two color options, those being Just Black and Not Pink — which is basically a light pink color.
Pixelbook Go Release Date (and Pre-orders)
While Google didn't announce an actual release date up on stage or during the announcement, we learned that the Pixelbook Go will be released around October 28th. That's when pre-orders from the Google Store will ship or get delivered, and when you can go somewhere like Best Buy and take one home.
You can pre-order the Pixelbook Go starting October 15th in several different configurations, but more on that in a moment.
Pixelbook Go Specs & Configurations
Designed as one of the fastest, most secure, yet sleekest laptops around, you'll be happy to learn they're only about 2 lbs while still offering 12 hours of battery life. That's pretty impressive, honestly. The Pixelbook Go has a 13.3-inch Full HD (or even 4K) display, the latest Intel processors, fast charging technology, and again, they run Android apps too.
Here are the different storage configurations being offered by Google. The base $649 model comes with a Full HD 13.3-inch display, 8GB of RAM, 64GB of storage and the Intel Core m3 processor. However, we recommend spending a little more for a Core i5 at the least.
We're hoping Google will eventually offer the more affordable regular HD version of the Chromebook Go with 256GB of storage for those that want to do more. Google claims the Pixelbook Go will get about 12 hours of battery life, but we have a feeling that's only on the m3 model, and you can expect a small dip in battery life if you choose that big beastly Core i7 option.
Furthermore, you'll be happy to know that the Pixelbook Go gets 4 hours of battery life after just 20 minutes on the charger thanks to fast-charging technology and USB Type-C.
Pixelbook Go Pricing
You already got a glimpse of it in the image above, but we wanted to break things down a little more. As you can see, each model goes up in price a little bit but also offers more storage, more RAM, and a better display. Unfortunately, it looks like the only way to get more than 128GB of storage is to buy the 256GB model with a 4K display that will run you $1,399. That's insane.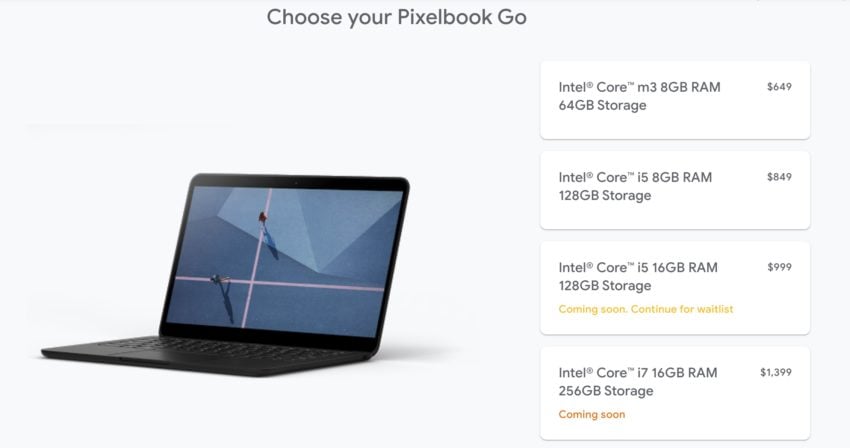 The base model is plenty powerful thanks to an Intel m3 processor, instead of a smartphone chip we've seen in cheaper Chromebooks from other brands. It also still has 8GB of RAM for smooth performance and multi-tasking, 64GB of storage, microSD support, and an HD display all for $649. Or, spend a little more for a better or faster device.
It's worth noting that these aren't the most affordable devices on the market, nor are they the cheapest Chromebook laptops. Still, coming in at $649 and being a Pixelbook makes this an enticing option for those that don't like the Chromebooks from ASUS or Samsung. You're not getting a stylus or other fancy features like a Surface Pro 7, but it's still a great little laptop.
So far reviews and hands-on around the web are very positive regarding the Pixelbook Go. Saying the design is great, the keyboard is comfortable and quiet, and we'll have to wait for more information before we say more. For now, pre-order the Pixelbook Go or buy your own in late October.

As an Amazon Associate I earn from qualifying purchases.