Plague Inc. for Android Arrives October 4
Plague, Inc. the popular iPhone and iPad game is finally coming to Android on October 4.
Ndemic Creations, the developers behind Plague Inc. announced the Android release date for the game yesterday on Twitter.
Plague Inc. for Android will hit the Google Play store for $0.99, the same as Plague Inc. for the iPhone and iPad,
Plague Inc., for those unaware of the game, tasks players with creating a disease and using it to kill all humans on the planet. Players start off with a bacteria that they name and then mutate the spread across countries and continents. After winning the game with the bacteria players unlock other forms of microbes to carry their disease including viruses and worms.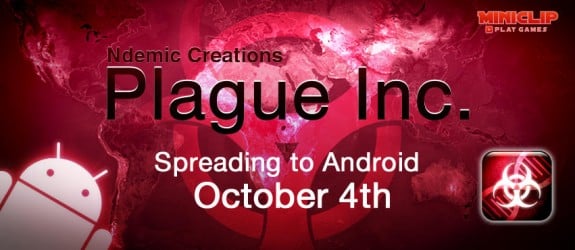 The strategy of the game involves mutating your disease to become more lethal, harder to cure, and easier to catch. It is a tough balance to strike at times, depending on the difficulty setting. Make the disease too lethal in the early stages and it will kill off all of its carriers or be detected too soon.
Since its launch on iOS, Plague Inc. has spent a lot of time in the Top Paid charts in the iOS App Store. It currently sits at number 28 overall.
With all the recent reports of piracy on Android we wonder why Ndemic Creations would make the jump to the platform, but maybe the developer isn't too worried about the issue. If the game does come to the Google Play Store for just $0.99 we hope Android gamers will just pay a dollar to play this great game.