Plantronics BackBeat Fit Review
The Plantronics BackBeat Fit bluetooth headphones are the absolute best headphones for working out. After using the BackBeat Fit and the JayBird BlueBuds X, it's clear that Plantronics delivers a better headphone for running, cycling and working out.
Plantronics delivers great sound, a design that stays in your ears and a soft and perfectly sized back wire that doesn't get in the way or flop around. another reason I love the BackBeat Fit over the Bluebuds X is that the design allows me to still hear my surroundings which is essential when I run or bike outside.
After a sedentary 2014 I started preparing for a Tough Mudder in early 2015 and since that point I've dropped 25 pounds and am back in the bait of running outside, biking and using an elliptical at the gym.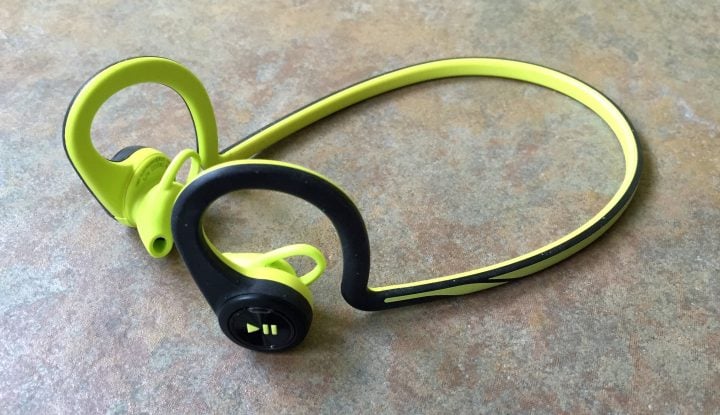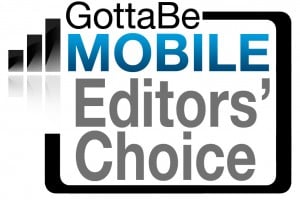 The right music or audio book is an essential part of motivating me to run or work out. The Plantronics BackBeat Fit earn a Gotta Be Mobile Editor's Choice Award for design that stays in my ears, allows me to stay aware of my surroundings and great sound for workout headphones.
The Plantronics BackBeat Fit are the best Bluetooth sport headphones you can buy. Here's why I love them. [easyazon_link identifier="B00KJLMBSO" locale="US" tag="gbm-ea-20″]Amazon sells the Plantronics BackBeat Fit for $89.99[/easyazon_link].
BackBeat Fit Design & Fit
When headphones don't fit right I spend half of my workout keeping one earbud in place and with the BlueBuds X this is something that happened constantly no matter which earbud I used or which style I wore them with. The BackBeat Fit design slides right on and hugs my ears. Running, biking or using the elliptical, these headphones don't go anywhere and sweat does not make the earbud pop out or mute the sound like on the JayBirds.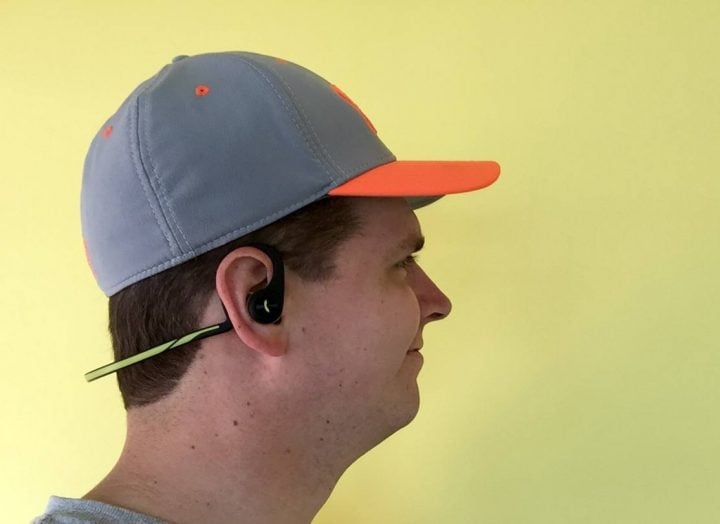 These headphones offer an open design that doesn't trap sweat in my ear and the headphones stay in place even when I am soaked, which is a huge deal.
I sweat a lot when I workout, but this isn't an issue with these headphones that feature a coating to keep them safe from sweat and water. After weeks of working out in sweat the headphones look and work like new. I normally workout while wearing contacts, but these also fit fine with glasses on for use around the house. I can feel the back band when I lay my head to the ground for various activities, but it doesn't get in the way.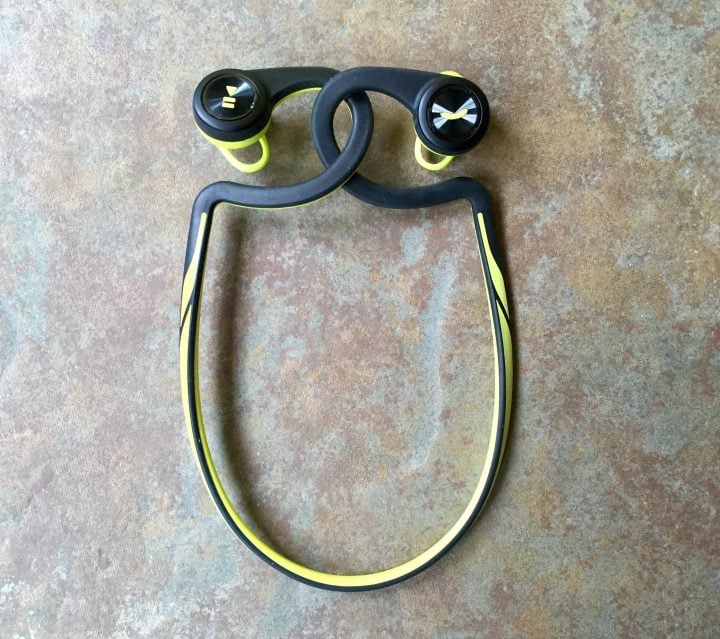 Four buttons offer access to most features you will need while working out. The play and pause button can also skip tracks and go back a track. A small button above that controls volume. On the right earbud is a phone call button and a power button. Holding the phone button activates Siri. The headphones include a reflective stripe on the back and a smartphone armband that is also reflective.
BackBeat Fit Sound Quality
The BackBeat Fit sound quality is very good for headphones that are designed to allow sound to come in. While using the BlueBuds X I enjoyed the sound quality, but I couldn't hear what was going on around me. With the BackBeat Fit I can still hear cars and someone I am running with, so that I am not isolated.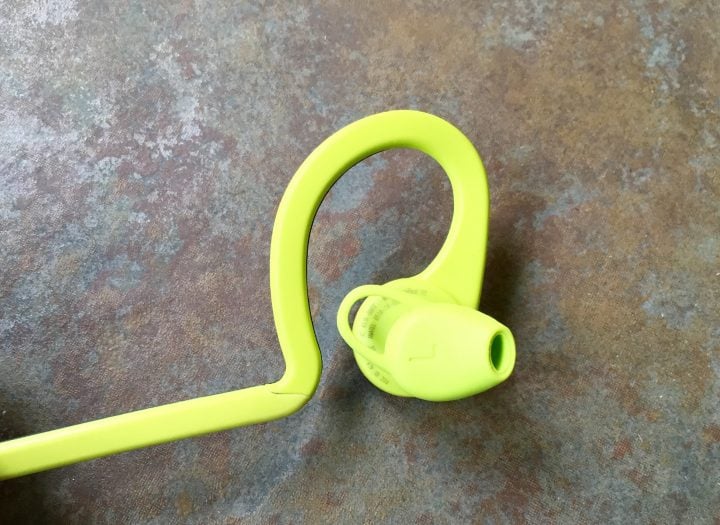 While working out I listen to fast paced Rap, EDM or an audiobook and I am pleased with the performance of these headphones. There is enough bass to satisfy, but it is not to the same level as headphones that seal to your ear or over the ear options like the Plantronics BackBeat Pro headphones.
The overall sound is very good with clear separation between left and right. Crisp drums and instruments come through well and the vocals are warm. I'm not wearing these headphones for a perfect recreation of a live performance, but they certainly do deliver a balanced soundstage across a range of music.
BackBeat Fit Battery Life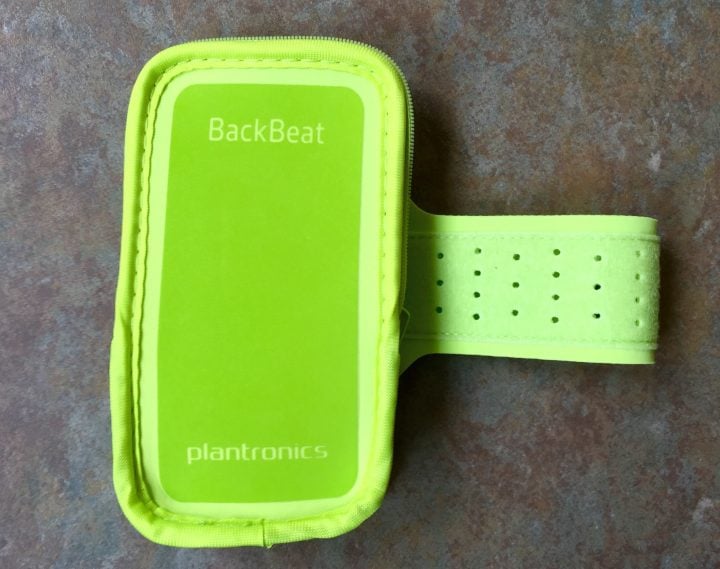 I really like that the BackBeat Fit headphones tell you the battery life as soon as you turn them on. this lets me know what the level is and if I need to toss them on the charger at the end of this workout. Plantronics promises eight hours of battery life, which is pretty close to accurate. I normally charge after six to seven hours of use to make sure the headphones are ready to go the next time I am. The battery life also shows in the status bar on iPhone, which is handy.
11 Best Weight Loss Apps in 2020
Lose it Weight Loss App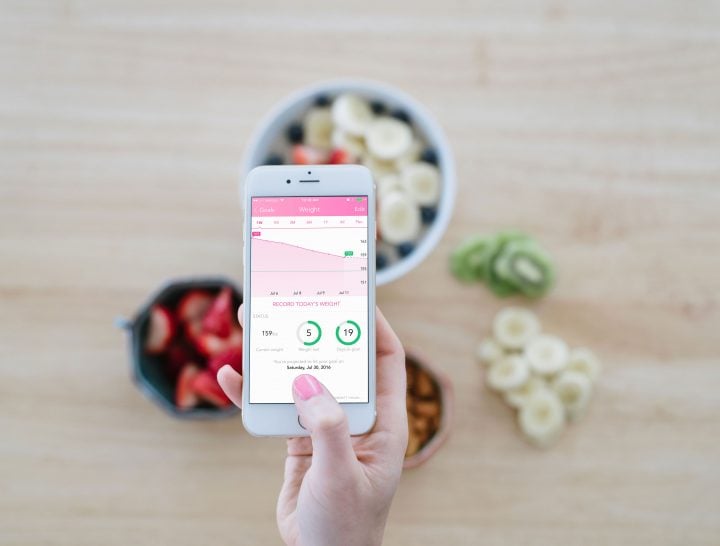 Lose It is a free weight loss app for iPhone and Android that helps you achieve sustainable healthy weight loss. This tool includes an app as well as a website so you can see your information on your computer as well.
You can connect to people, your various devices and food information that will help you lose weight with smart decisions. Lose It helps you create a personalized weight loss plan with goals that include a goal weight as well as total wellness and fitness.
The app includes access to a verified food database that helps you track your calories with easy searching, or add custom foods and you can share recipes. You can also scan a UPC to add food.
Lose It connects to other apps like RunKeeper, Nike+ and a variety of devices and scales to help you track all of your fitness data easily and intelligently. You can create goals with a group of friends, challenge friends or yourself and get support from the group to stay on track.

Lose It is free, with a $39.99 premium option that includes much more tracking, meal planning and other upgrades.

As an Amazon Associate I earn from qualifying purchases.