PlayBook Now On Fire Sale at Best Buy as Kindle Fire Launches
With the launch of the Kindle Fire, both through Amazon and Best Buy recently, it looks like Best Buy is discounting Research in Motion's BlackBerry PlayBook. Various reports online show that the 16 GB model could be purchased at $199.99, the 32 GB model at $299.99 and the 64 GB model at a surprising $229.99, making it cheaper than the lesser capacity 32 GB variant.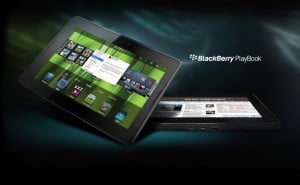 However, at the time of this writing, Best Buy's online website in the U.S. does not reflect these discounted prices, and various customers have stated that they were able to grab remaining inventory of the PlayBook through their retail stores with supplies varying by location.
As the PlayBook and the Kindle Fire sport similar specifications–the PlayBook does have more internal storage and more RAM–and design, it seems that the move may make the PlayBook more competitive against Amazon's debut Android slate. The PlayBook does benefit from a forthcoming software update in early 2012 that would bring native email and PIM applications to the tablet, which launched without those native apps in favor of web apps, as well as support for ported Android apps.
Those looking to use the PlayBook as an e-reader type slate could utilize the Kobo e-book store that's native on the device. The PlayBook does not have a Barnes & Noble Nook app nor a Kindle app, though you may be able to utilize Amazon's Cloud Reader.
Via: SlashGear