PlayStation Vue vs Sling TV: What You Need to Know
Last decade, it was the battle over how users got their music that changed everything. This decade, it's the television space that's seeing big changes. The revolution that streaming music and subscription services brought us were big, but television stands to be even bigger. There's more at stake; millions watch TV every day. There are dozens of services all vying for your dollar, but Sling TV and the new PlayStation Vue are the most exciting.
Sling TV is the incumbent in the space. Launched in 2015, it allows users to ditch their cable and satellite contracts for the safety of an internet service without contractual restrictions. Subscribers pay as little as $20 dollars a month for the service's basic line-up, then add channels with $5 packs. PlayStation Vue costs $29.99, but boasts a seriously impressive channel line-up. What's more, its apps and approach to on-demand content are impressive.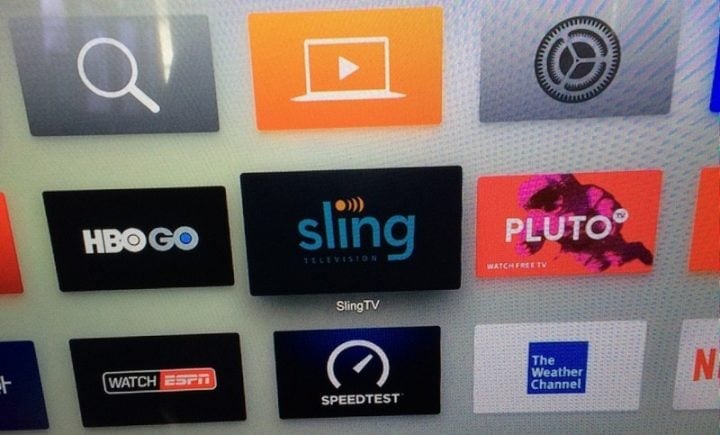 Sling TV and PlayStation Vue are battling for the same audience of deal seekers that are finally ready to say goodbye to the unnecessary stipulations ruining the cable and satellite television landscape. Here's how the two compare.
PlayStation Vue vs Sling TV: Features
Apps for iPhone, Fire TV, Roku, iPhone, iPad, Android, Chromecast and Android TV make up the core Sling TV experience. The service, uses your internet connection to bring you footage from live cable channels. With Netflix and Hulu, you can't watch something until everyone else has already seen it on cable. With Sling TV, you can watch at the same time that they do.
Read: Sling TV Review: Is $20 A Month Worth It?
Add-on channel packs for Sling TV allow users to bolster the service's default line-up with extra content. These add-on channels surface directly within the app, plus sometimes grant access to the services and apps of other companies. For example, HBO is a $15 add-on for Sling TV customers. A small library of on-demand content is available for users that really don't have the time to check out their favorite shows as they air. Earlier this week, the service took a big step forward when it announced that subscribers could stream live channels from three different devices at a time with a new basic package. A single person could already watch content when they weren't home through mobile apps.
A guide that's not all that different from the guides you're used to with a cable subscription floats out from the bottom of each of the Sling TV apps. The company is in the middle of modernizing many of them, which is great news; they're plagued by stability issues in their current form – especially on Xbox One.
PlayStation Vue, has different strengths and weaknesses. Like Sling TV, apps allow you to livestream television as well as pause a show you're currently watching and pick up where you left off a bit later. An app for the iPhone allows you to stream around your home, when not in front of a TV. Because it's a PlayStation service, Sony seems perfectly happy limiting the platforms that the service is available on. Only through the PS4, PS3 or Amazon Fire TV are you able to stream PlayStation Vue in your living room.
Read: PlayStation Vue – What You Need to Know
Rather than forcing you to mark things for recording, PlayStation Vue automatically saves episodes of any show that you mark as a favorite for a total of 28 days after it aired on television. What's more, PlayStation Vue supports broadcast channels in some areas, with on-demand streaming available for broadcast content in areas where streaming the local ABC and NBC affiliate isn't possible yet. Standalone channels let you add Machinima or Showtime, if you want. HBO isn't available.
PlayStation Vue comes with different channel bundles, instead of breaking everything out into smaller packs like Sling TV. The cheapest plan is $29.99. Though higher than the competition, the service offers up a pretty compelling channel list in exchange.
PlayStation Vue vs Sling TV: Channels
Honestly, the biggest difference between these two services is their channel line-up. PlayStation Vue is designed more like cable, in that there are large subscription packages instead of add-ons with a better channel line-up.
Either you choose the Elite Slim, Core Slim or Access Slim bundles with PlayStation Vue. Elite Slim includes over 100 channels for $44.99, Core Slim packs 70 channels for $34.99 and Access Slim has 55 channels for $29.99. The few standalone channels that the service offers are discounted slightly for subscriptions of PlayStation Plus.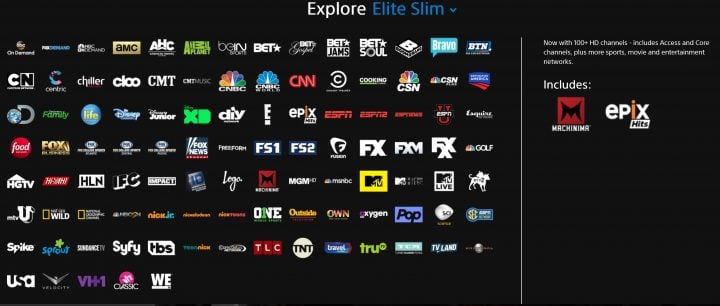 Sling TV's channel line-up gets complicated. There are now two base packages. The $20 Best of Live TV package includes access to 26 different channels. You can add more through packages, like the $5 Kids Extra Pack. That new multi-stream support, is the second base package that the service offers. It's still $20, but drops Disney and ESPN. It also drops a significant amount of the add-ons that are available with the original bundle. For example, you can't add-on any Disney content to this plan.
It doesn't help that Sling TV doesn't support any of Viacom's channels at all. That means no MTV, VH1, TeenNick or Nickelodeon. NBC Universal is missing from the line-up too, with USA, CNBC and more nowhere to be found. PlayStation Vue has these channels, but you lose access to HBO without a separate subscription.
PlayStation Vue has some content restrictions of its own though. Some networks don't allow you to fast forward through their on-demand content. When you're not home, some channels are entirely missing because PlayStation Vue tracks your location and IP address. Vue has a better iPhone, but it's not available online or on Android. You can only create an account essential to the service through FireTV or a PlayStation, which seems brutal and draconian.
Also, you can stream from multiple devices at the same time, but only if they're different kinds of devices. For example, streaming on two PS4s isn't possible. Streaming on a PS4 and a PS3 at the same time is possible. Vue allows for five simultaneous streams in all, but they have to be within your home.
PlayStation Vue vs Sling TV: Which to Buy?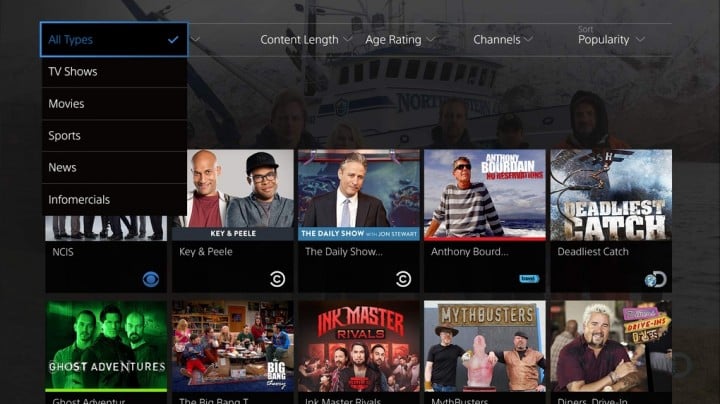 Having used both PlayStation Vue and Sling TV for an extensive amount of time, I can't say that there's a real contest here. If you're a big fan of television and prefer variety, PlayStation Vue has Sling TV beat. You're getting a very, very mature alternative to cable with PlayStation Vue, that Sling TV can't match yet.
There are the usual caveats though. If you travel a lot, Sling TV is definitely for you. If you're not into channels owned by Viacom and NBC Universal, but do want a back-up service for Netflix or Hulu, Sling TV is more affordable. Sling TV is also less hardware dependent than Vue is too. The service is available on most devices in some form, even if these apps are sometimes buggy.
All that being said, take the leap with PlayStation Vue if it's available in your area. You won't be disappointed.