Pocket God for Android: My Nephew Can Finally Go Android…
Ngmoco is publishing Pocket God for the Android platform. The game is incredibly popular on the iOS platform and the lack of it was reason enough for my 9-year old nephew to dismiss Android completely.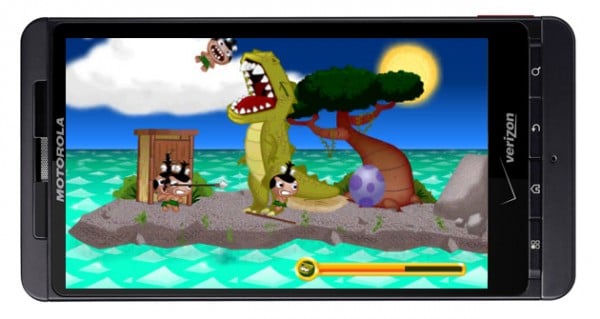 The conversation went something like this:
Nephew: What are Droid phones?

me: They're phones that are kinda like your dad's iPhone 4, but run different apps.

Nephew: Are they good?

me: Yes.

Nephew: Are they better than the iPhone?

me: Some people think so. I still like my iPhone, but some people like Droids better.

Nephew: If you buy a Droid can you download Pocket God for me?

me: um…no. There's no Pocket God for Droid phones. They have other games on there…

Nephew: Oh man! Forget it…
I bet my nephew's not alone in his thinking. There are a lot of apps out there that are must-haves for people of different walks of life. The prospect of leaving a favorite app behind when can be a show stopper. Many people have cited this dilema when considering a switch from PC to Mac for years. The smartphone market is no different.
Pocket God was originally published by Bolt Creative, but porting a game over to Android isn't exactly as easy as hitting a 'save as' button or two. The developer brought on ngmoco to port it over to Android. The game is reportedly working fine on the HTC Evo 4G and Nexus One, but it's not running on some of the most popular Android devices out there, including the Galaxy S and T-Mobile G2.
Android fragmentation is going to continue being a problem for the foreseeable future as manufacturers are free to build phones however they wish. That's both good and bad for the consumer.
via MobileCrunch

As an Amazon Associate I earn from qualifying purchases.