Pocket Informant App Free On Amazon Today
Today's free Amazon app is [amazon_link id="B004X80QNG" target="_blank" container="" container_class="" ]Pocket Informant[/amazon_link], a planner/calendar/tasks app that syncs with Google's servers as well as offering a wealth of features to keep you organized. The ability to sync with Google Tasks is huge for me, as I'm always looking for a tasks/to-do list that I can use on my phone and the desktop. If you live in the Gmail web interface when you're at your computer and use tasks, this app makes a good companion.
Normally $9.99, Pocket Informant offers an overwhelming number of options. So much so that it can be hard to know where to start. Luckily, it pulls in the calendars for the Google accounts you already have linked up to your phone, so some data is already in there.
It can handle multiple accounts for events, but you have to choose just one for tasks. It synced my tasks initially, and I set it to sync every couple of hours since I tend to add more on the fly so I won't forget things I need to do.
Under Settings you're faced with a mountain of choices, allowing for uber customization. Again, this is pretty overwhelming at first, but don't feel like you need to go through them all at once. As needs come up, go investigate if there's a setting.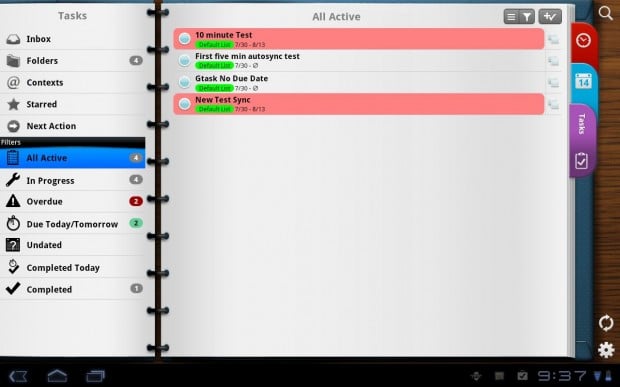 Pocket Informant will work on phones and Honeycomb tablets (there's a special UI for larger screens). Kindle Fire owners should scoop it up or sure, especially since there's no native calendar. It'll take the Fire one step to being a replacement for that FiloFax falling apart in your briefcase.