Pocket Mortys Release: 5 Things You Need to Know
After only two seasons on TV, Adult Swim's popular new foul mouthed cartoon Rick & Morty is a hit. So much in fact that Adult Swim games just released a brand new game on the Google Play Store. It's like an adult version of Pokemon, with Rick and Morty instead of fuzzy little cartoons. The game is getting more popular by the day, and here are a few things players need to know.
Taking over the spot that Futurama used to hold, Rick and Morty has taken the internet world by storm, and is mostly popular because of the crude and narcissistic actions of the scientist Rick who travels to other dimensions with his portal gun. The game doesn't exactly follow the show, but you'll still want to check it out.
Those who've enjoyed games like Pokémon, or popular card-collecting games for mobile devices will be right at home. There's plenty of Rick and Morty cards to be found, and here's a few more details before you dive in.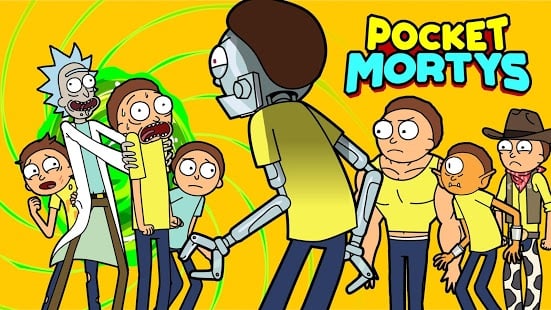 Available Now
Earlier this week Adult Swim Games released Pocket Mortys to the Google Play Store as well as the App Store for iPhone and iPad, and it appears to be an instant hit. Users will be able to collect multiple cards, and find well-known characters from the show throughout the game, but more on that below.
Users can head to the Google Play Store or App Store and get it as we speak. However, it doesn't appears to work with phones or tablets running an Intel chipset, like the ASUS ZenFone, which the developers are working on and will address in a future update.
How to Play
Pocket Mortys is basically a spoof of Pokémon, which is both a good and bad thing. It doesn't have the same childish attitude though, and isn't a game we'd consider for kids. This is Adult Swim we're talking about here.
In Pocket Mortys players will be able to wander around and find nearly 70 different Mortys to capture, train and level up, and use against the bad guys, which you will find as you walk around different levels in the game.
It can be a but confusing at first, and those who've watched the show will have a better understanding of how it all works, but anyone can play. Gamers will mostly play as Rick, who uses his Morty to to fight other Ricks and their Mortys. Weird, right?
Collecting alternate Mortys is one of the best aspects of the game. Like Robot Morty, the cowboy version and more. There are over 70 different characters to collect and use at your disposal.
Very Similar to Pokémon
As we said above, the game is basically Pokémon for adults, or Pokémon but with Rick and Morty instead. Each Morty has four different attacks they can use, and Morty can level up to become more and more powerful. There are also different and new attacks to be found or earned, but only four can be available at any given time.
Save up as many characters as you can, "evolve" them, and use the best attacks available to take on the baddies as you come across them.
There's even a capture method very similar to the Pokeball, but using a Morty Brain chip to capture other Mortys instead. It's like Pokémon in almost every aspect of the game, but loads of fun. Even for those patiently waiting for season three to arrive.
In-App Purchases
The game is free of course, but that also means there are loads of in-app purchases users need to be aware of. The in-app purchase lotto system will net players Blips & Chitz, that then let players buy tickets to win random items, and even extra Mortys at any time. Be careful though, as those purchases can really add up.
Just Like the Show
Fans of the hit new Adult Swim series will feel right at home. Wandering through the different alternate universes you'll find other Mortys to fight with. Basically using your grandson to do battles for you. If that sounds cruel, it's just like the show.
And while the game is pretty tame in comparison to the show, the same dark humor, locations, voice-overs, and even music is similar to the episodes you'll catch on late night TV. Well know characters from the show like Bird Person and Mr. Meeseeks can be spotted as well.
Along with the main plot are countless little side quests that will keep players busy for hours on end. Be prepared to head to alternate dimensions and timelines in order to "catch them all" that being the nearly 70 different Mortys available to collect. Surely more will be added in the future. Give it a try today, especially if you're a fan of the show.

This article may contain affiliate links. Click here for more details.