Pocket Mortys Update: 3 Things You Need to Know
The new hit mobile game based on Adult Swim's TV show Rick and Morty is about to get even better. This week the first important Pocket Mortys update arrived with bug fixes, tweaks, changes and more that gamers need to know about.
Pocket Mortys is an instant classic. Taking the foul-mouthed yet exciting TV show and turning it into an extremely addicting Pokemon-style game for fans. Users trying to battle others to collect Mortys, visit other dimensions and more will want to read on for the latest details.
Read: Pocket Mortys Tips & Tricks: Collect Them All
This brand new game was released less than two weeks ago, but has already climbed to the top 10 spot on both the Google Play Store and the iPhone App Store. It has plenty to offer, exciting and addicting gameplay, and more than 82 Mortys to collect. Like Pokemon, you "Gotta Catch 'Em All".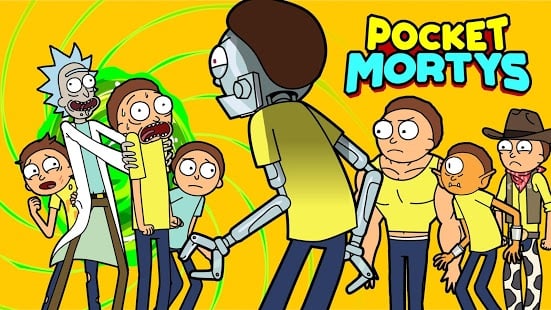 Late last night Adult Swim games pushed out a much needed update for Pocket Mortys. Something we've been hearing about for more than a week. It delivers some very important bug fixes, device compatibility tweaks, and might even help a few die-hard players collect a Morty they've been unable to get.
Device Support
In just over a week Pocket Mortys has nearly 1 million installs on Android, and even more on the Apple App Store. Meaning it's extremely popular. And while iPhone owners aren't having too many problems, lots of Android users are unable to play.
For whatever reason Pocket Mortys didn't work with Android smartphones or tablets using an Intel Atom Processor. Thousands of users with ASUS smartphones or tablets like the new ASUS ZenFone 2, Lenovo devices, Dell or Acer tablets and more. All are listed as incompatible, and weren't able to download the game.
The update today has fixed the incompatibility with Pocket Mortys and Intel-powered devices. Most flagship Android smartphones and tablets don't run Intel, so this hasn't been a huge concern, but for millions with budget devices, go download Pocket Mortys today and give it a try.
Quit Button in Pocket Mortys
Another big complaint for the millions of players is an actual quit button. Something that many Android games don't seem to have, mainly because of the advanced multi-tasking and recent apps feature in Android.
This update adds a much needed "Quit" button in the MortyPad, letting users fully quit and exit the game. This helps make sure you've exited and saved properly, and the game isn't in the background using up battery life. It's a small but very much needed change.
Mascot Morty and More
Looking around various forums, fans on Twitter, guides and more it seems that no one can find or capture Mascot Morty. He's been spotted, but no one is able to "catch him" as we say. Mascot Morty is an issue that the game developers have already confirmed.
https://twitter.com/PocketMortys/status/689089651852861441
Above is a tweet from the official @PocketMorty account stating that Mascot Morty was missing, and he'd be added in a future update. The new version going out today doesn't specifically mention Mascot Morty, but most likely this problem has been fixed.
Meaning, head to different dimensions, use the portal and go search for Mascot Morty. Bring a little of everyone with you, as you never know what you'll need to battle and win. The tweet also mentioned "Even. More. Mortys." but again, we're not sure if additional Mortys to collect were added today or not.
At the end of the changelog it does mention that multiple backend fixes have also been implemented. Meaning many of the complaints about problems, bugs, crashes and more we're seeing in app store reviews should be solved. The game loading and then a black screen of death should be fixed as well. So if you've been enjoying the game but frustrated by problems, it's probably worth trying again.
If you're a fan of Rick and Morty or Pokemon style games, give it a try today. Stay tuned for more details, and we'll update as soon as more Mortys are added.